Panama Canal's Charges And Delays Way Up For Small Boats
May 4 - Panama Canal

"We just completed our southbound transit of the Panama Canal aboard our Hallberg-Rassy 46, and found the new way of handling sailboats to be quite different - and much more pricey - from what it used to be or at least from what the cruising guides say," writes Giorgio Cagliero.

"We used Tina McBride as our handling agent, and we think she did a great job. However, the Canal's new fees add a lot to the cost of a transit. Under the new policy, sailboat transits start around 5 or 6 p.m., and sometimes even later at night. Your advisor takes you to Lake Gatun, where to tie to a mooring. Generally, only three boats go through a day, and they have all three of you raft together on the buoy. The advisor then leaves, and another advisor arrives in the morning to help you complete the transit. So far so good. But consider all the fees for a sailboat of less than 50 feet:
$600 Transit fee
$850 Buffer (hopefully to be refunded)
$440 Delay fee (because you did not complete your transit in one day - as if you had a choice!)
$320 Launch fee (to get your advisors back and forth to your boat)
$100 Mooring fee (to be rafted to a rusty mooring buoy on Lake Gatun)
Total fees: $1,460 + $850 buffer + $500 handling agent (if you use one) plus miscellaneous small fees for visas and stuff.
"And then there is the wait. This season sailboats had to wait anywhere from 10 to 19 days to transit, the average time being 15 days. Now if you don't want to wait for 15 or more days in lovely Colon, you may request a pilot instead of an advisor, and you can pick almost any day you like to transit - and most likely you'll start the transit early morning, which means you might even complete the transit in one day. Some of the other fees are waived also, but there is the pilot fee - a whopping $2,250! Clearly the days of transiting the Canal for $500 are gone for good!"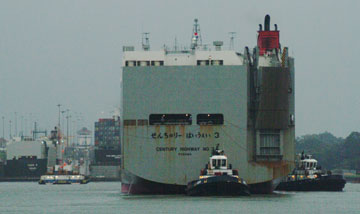 Getting ready to lock through on the Caribbean side of the Canal
on a drizzily dawn in May.
Photo Latitude/Richard
Readers - Unless Cagliero's transit was an isolated incident, things really have taken a turn for the worse in Panama. We're not at the Canal every day, of course, but we can't recall anybody being charged a mooring fee at Lake Gatun, a launch fee to bring the pilots back and forth, or a delay fee that wasn't caused by the boater himself. That adds up to $760 in 'new' fees.

However, as we've written before, we don't think the $500 for an agent is necessary. We've done the transit paperwork with the help of taxi drivers for about $50 - and it was a lot of fun.

As for a "typical" wait of 15 days, that seems to be way longer than in the past. But with the tremendous increase in global trade, particularly from China, it doesn't surprise us at all. To the best of our knowledge, the Canal is operating at maximum capacity most of the year.