Photos of the Day
April 29 - Ventura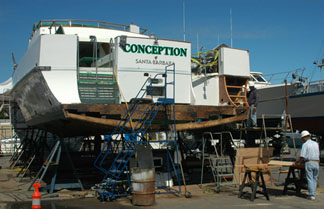 Today's Photos of the Day come from the Ventura Harbor Boatworks in Ventura, which is hopping with activity - and a couple of new major boat projects. The first photo (above) is of the transom of the Santa Barbara-based dive boat Conception, which was stolen from her berth about a month ago, taken up near Pt. Arguello, and driven ashore. Glen Fritzler, the owner of the dive company, Truth Aquatics, has gone to great efforts to save her. She was patched as much as possible while still ashore, then pulled off by a big tug. In rough conditions during which the boat constantly had to be pumped, she was taken down to the entrance to Ventura Harbor, where the too-deep to enter tug was to hand her off to a couple of tow boats designed to rescue small recreational boats. It was too rough for the little boats, so the tug had to take Conception down to the nearby military port at Port Hueneme, wait for two days until the weather calmed, then bring her back to Ventura to be lifted out. It was an exhausting and heroic effort by a guy who clearly loves his boat. The good news is that she can be fixed. One of the yard supervisors told us it's lucky that she's built of plywood, because it wouldn't have been cost-effective to rebuild her if she'd been built of traditional wood construction.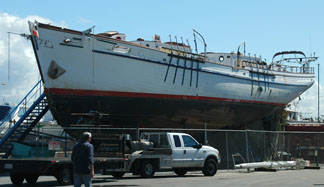 The other boat, the 90-ft brigantine Irving Johnson (photos above and below), which is of traditional construction, had gone up on an uncharted new sandbar at the entrance to Channel Islands Harbor in Oxnard. After being bashed around for several days, she was pulled clear. Apparently her fate lies in the hands of the insurance folks, who have to decide whether she's worth rebuilding. The outside of her hull doesn't look anywhere near as bad as we expected, but it's impossible to know the extent of the damage from the outside. The one thing that did strike us is what an enormous project she had to have been to build in the first place. She's a very complicated and detailed boat.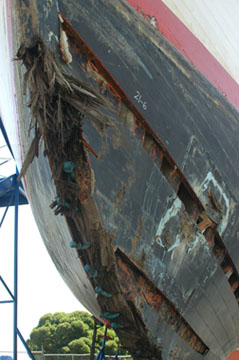 Lest anyone think the "new sandbar" might be a bogus excuse, we took a couple of photos of what the beach looks like in the Oxnard-Ventura area.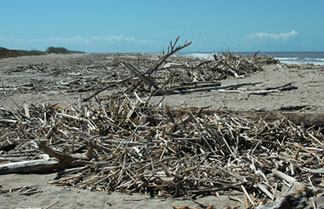 The amount of debris on the beach, and the shifting of sand, both from the near record rainfall in Southern California, is astonishing. It rained just a little while we were down taking these photos. If anyone has any doubts about the effect of 'non point source' or run-off pollution, take a look at the difference in the color of the water in the last photo. Indeed, the ocean is the toilet for all land-based activity.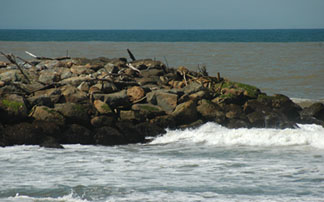 Photos Latitude/Richard