Disabled Sailors Do Newport-Ensenada Again
April 27 - San Diego
Sailors with disabilities from the San Diego-based Challenged America program once again competed in the Newport to Ensenada Ocean Race, April 22-24.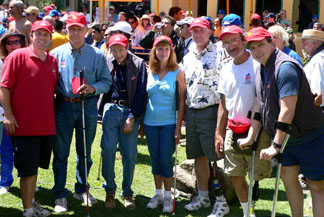 The Challenged America crew in Ensenada. (Left to right) Josh Ross, Urban Miyares, Dr. Gerardo de le Mora, Linda Woodbury, Kevin Wixom, Jim Halverson, Jeff Reinhold.
Photo Greg Scott
Said Urban Miyares, Challenged America co-founder and blinded sailor, "We first did the Ensenada race in 1990. It's a great training platform we use as a graduation for new sailors wanting to move from our small boat program into our big boat program and ocean racing."
In this year's race, the Challenged America crew of sailors with disabilities raced in a borrowed Beneteau 42 center-cockpit cruiser named Cafe au Lait, as their Tripp 40 racing sailboat, B'Quest, is currently getting a new mast and other upgrades in preparation for their entry in this year's Transpac Race to Hawaii.

The crew of seven had one crew member from Mexico, one from Seattle, Washington, one from San Juan Capistrano and the other four from San Diego. Their disabilities included leg amputation, quadriplegic, a debilitating bone disease affecting the spinal column and neck, total blindness, diabetes, stroke and cancer survivors, and recent kidney transplant recipient.

Although the Challenged America team was the first boat to finish in their division, on corrected time they finished the race in the middle of the 35-boat cruising division.
For more information on Challenged America, visit www.ChallengedAmerica.org or call (619) 523-9318.