End of the Road for Fast Forward?
April 18 - Marin Headlands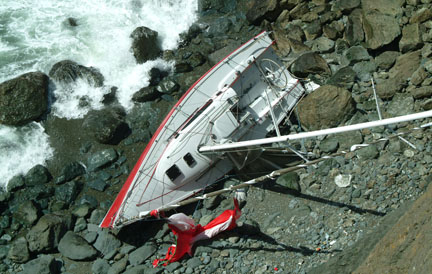 Today's photos of the day were taken yesterday at the Point Bonita Lighthouse, which has been the scene of many shipwrecks since it opened in 1855 (the current lighthouse was built in 1877). We vividly remember two wrecks in modern times - the barge Agattu in 1979, which went up on the rocks carrying a potentially deadly cargo of chlorine gas and fertilizer, and the Schumacher 30 Felony, which was totaled on the point in the windy 1982 Doublehanded Farallones Race, fortunately with no loss of life.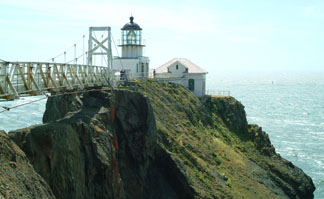 Add to the list Dan Benjamin's red Aerodyne 38 Fast Forward, which we're sad to report augured in at Bird Island (a quarter mile or so north of Point Bonita) around 5 p.m. on Saturday. Benjamin was on the return leg of the Singlehanded Farallones Race, running probably second overall behind the J/90 Sweet Jane when things went sideways, literally. With winds in the high teens, Benjamin got a fatal kite wrap during a jibe - the kind with a big air bubble at the top of the rig that pinned the boat over. Unable to get the kite down, he lowered the already-reefed main all the way down and started the motor - but the boat was so far on its ear, the propeller wouldn't bite.
A Coast Guard cutter arrived on the scene just as the boat drifted up on the rocks, and was able to save Benjamin, who jumped in the water and was promptly retrieved, but not Fast Forward. The boat subsequently moved on the current down to where it now sits forlornly in the cove under the Lighthouse, awaiting its fate. Though it appears relatively intact, other than the rudder and a hole in the port side, the tricky salvage job could be so expensive that the boat is a write-off.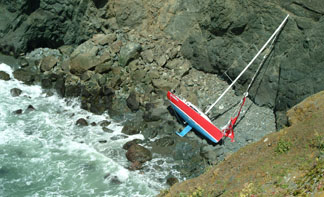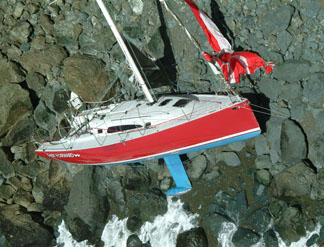 Photos Latitude/Rob
"You hear about things like this, but you never think it could happen to you," said Benjamin, a good guy who is also one of the most accomplished shorthanded sailors in the Bay Area. Benjamin was understandably reluctant to talk with us on the record until after he deals with his insurance company, but did, however, agree to write up an account of the accident for us in time for next month's issue of Latitude 38. Our coverage of the Singlehanded Farallones Race will appear in the May issue.