Last Call for Punta Mita Oceanfront at Affordable Prices
(The following is a paid advertisement)
April 15 - Punta Mita - The Lighthouse Condos

If you're a surfer-sailor looking for the ideal rental and/or retirement beachfront place in the tropics, you'd insist on everything that Punta Mita - located at the northwest tip of Banderas Bay - has to offer: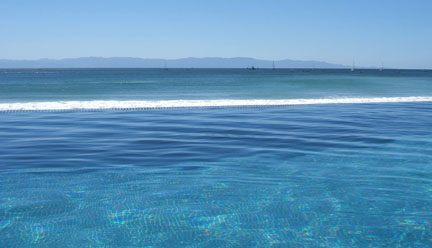 El Faro's infinity pool is a great place for surfer-sailors who love the blues - the tropical blues.
- Terrific pleasure sailing conditions, meaning consistent 8-16 knots of wind and flat seas. And, you can leave your boat on a free mooring among the cruising boats for the entire winter.
- Great surfing conditions. There are at least a half dozen usually uncrowded breaks - from beginner to expert - within walking distance. Sayulita is just a few miles up the coast.
- Warm weather. The air temps are in the '80s throughout the winter, and it's delightful in the evening. The water temps are in the mid 70s to low 80s, so you can throw away the wetsuit.
- Great sailing destinations within 12 flat-water miles include the Tres Marietas Islands, which are home to whales, rays, and big sharks, as well as Yelapa, La Cruz, Nuevo Vallarta, and Puerto Vallarta.

Convenience - It's three hours by air from San Francisco to Puerto Vallarta, and then 35 minutes by car to Punta Mita.

Tranquility - If you're looking for crowds and major nightlife, you'd be better off in downtown Puerto Vallarta or at one of the big resorts. In their own way, they are also nice.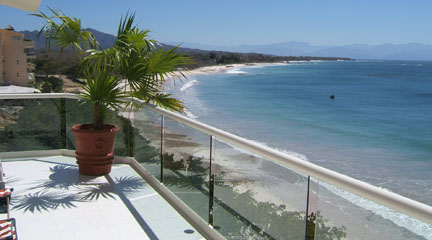 The view to the east, looking toward the multi-million dollar El Rancho and El Banco estates, with Puerto Vallarta and the jungle-covered Sierra mountains in the distance.
While you'll always be able to buy at Punta Mita if you can afford the really big bucks for a place at the Four Seasons, Rosewood, or St. Regis luxury resorts, you won't always be able to find the exceptional values currently available at the lighthouse condos. But there aren't many left. Of the 30 elegant and spacious condo units in three towers - two completed and one just starting construction - there are only five units left: two 1,400 sq. ft. one-bedrooms for $250,000 and $260,000; two 2,500 sq. ft. two-bedrooms at $410,000 and $450,000; and one 2,500 sq. ft. three-bedroom on the 4th floor for $470,000. The American developer, who has been building in the area for eight years, lives on site full time.

If you're also a sailor-surfer and this sounds interesting, email the manager.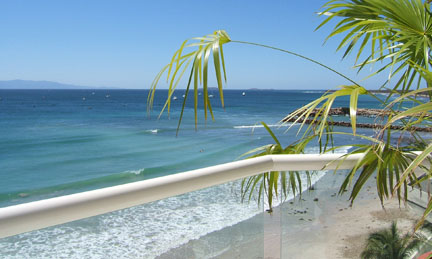 The view to the west, with the panga harbor, cruising fleet, El Faro point surf spots, Tres Marietas Islands, and Cabo Corrientes in the background.