What's New in Newport Beach?
April 11 - Newport Beach
Newport Beach has always been a great place for visiting cruisers, as they've got a nearly unlimited number of moorings available, and they're only $5 a night - which for Profligate, is a savings of $41 a night over Catalina. The problem at Newport has always been where to land your dinghy. There's an unlimited-time dinghy dock near the Coast Guard station, but all the other docks around the long and narrow bay were limited to something like 20 minutes. That didn't leave enough time to shop or go to a restaurant.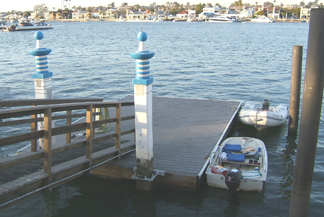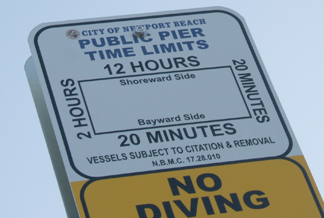 Photos Latitude/Richard
When in Newport this last weekend, signs posted around the little docks indicated a great improvement. As you can see, depending on where you tie up on the little dock, you can legally stay anywhere from 20 minutes to 12 hours. This makes life much easier for visiting mariners, for which the Orange County Sheriff's Department, who is in charge of such stuff, is to be commended.
Also relatively new - and in time for the start of the Ensenada Race - are new heads and showers by the Coast Guard station. Because of the abuse such heads receive from the general public, they have to be the nearly-indestructible San Quentin type. Nonetheless, the showers now feature hot water - in fact, almost too hot water - a commodity that was lacking in the old ones. So while you don't want to use them expecting Four Seasons opulence, and you definitely want to remember to wear flip-flops, the showers are certainly functional.