Powerboater Fined $63 for Non-Payment of Fees at Angel Island
April 8 - Angel Island
"The rangers on Angel Island are taking a more active role in collecting fees - going up to $20 on May 15 - for the moorings and docks, and are requesting boaters to use the self-pay envelopes located at the top of the docks near the souvenir center," reports Tom Keegan of the San Francisco-based Killin' Time.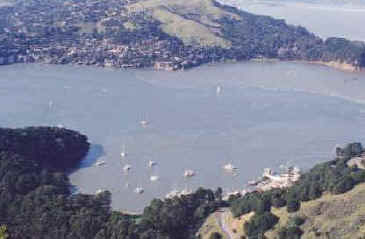 Busy Ayala Cove from atop Mt. Livermore
Photo Courtesy www.angelisland.org
"On March 26, they were out in an inflatable to make sure everybody paid, and they were very polite. However, a powerboat in the cove didn't have anyone aboard - which is not uncommon, as there are places to go and things to see. But I could not believe what happened next, as the two rangers boarded the vessel, one of them going below! The owner of the boat returned while they were still there, and he was furious! The Coast Guard arrived shortly thereafter, and everybody had a meeting at the dock. Eventually the owner of the powerboat left with a $63 ticket for non-payment of fees.
"We later questioned the rangers about their right to board vessels. Their response was that they can board any vessel they want to as long as they have a safety or security concern."
So you want to make sure you pay your fees.