"Are These for Me?"
March 28 - Avalon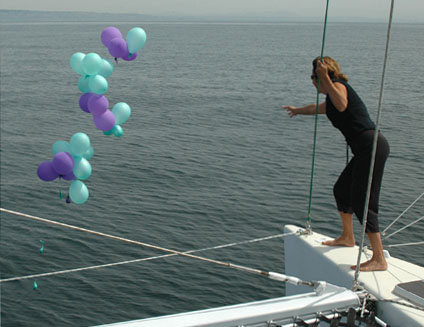 "Just a little closer . . ."
For years environmentalists have been grousing about balloons, regular and mylar, being a source of water pollution and a danger to sea life. We're not sure how great a problem and danger they are, but after yesterday, we know they're out there. For while motoring about 10 miles offshore of San Diego on our way to Catalina, we came across a series of balloons lying on the surface of the water. One bunch, however, still had enough helium to keep it hovering just above the surface. So with Christian Buhl's deft handling of the helm, he maneuvered Profligate in such a manner that Doña de Mallorca could snag the cluster. "Are these for me?" she asked. That's right, FTD florists now deliver offshore.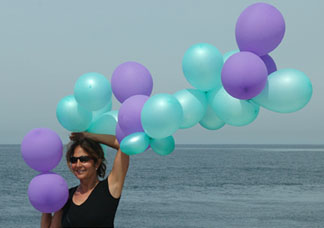 "Got 'em!"
We thought it was supposed to be sunny and warm in Southern California. Not this winter and spring. On the way to Avalon we could clearly see the highest peaks of the mainland covered in snow. And we're not talking about a light dusting, but full coverage. We hadn't seen the white stuff from a boat since we brought Profligate up past Pt. Sur one March about 8 years ago. The cool air and snow had Christian longingly remembering that it was less than two weeks ago he was aboard Profligate in Mexico, sweating in shorts - and having to air-condition his chest when fraternizing with the always lovely Flor of Desperado Marine.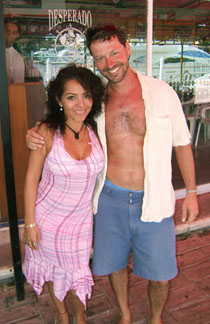 Flor, making Christian sweat in the tropical heat of Mexico.
As for Catalina, we're told it's been a rough winter. Scotty, last night's shoreboat driver, told us that something like 62 boats had gone ashore on the island since November. Lots of them were semi-derelicts, of course, but we're also told that a 63-ft motoryacht sank in Avalon Harbor. A big wave reportedly slammed into the shore, then the backwash poured into the cockpit, and she quickly went under. On many occasions throughout the winter an easterly component to the wind and seas have wreaked havoc in Avalon. We're told that several of the docks were thrown up onto the pier and that many of the ramps were smashed.
Nonetheless, all looked in good shape last night. And that's a good thing, because we're told that every mooring was taken for the Easter weekend - when they had good weather. The bright side of all the rain is that Catalina now looks as green as Ireland. And last night the grunion were running.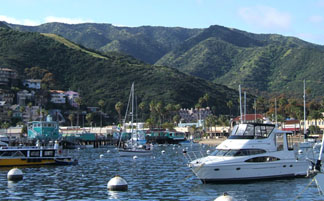 The green, green hills of Avalon
Photos Latitude/Richard