Thailand Coming Back Strong in Wake of Tsunami
March 25 - Phuket, Thailand
Latitude 38 contributors Tom Morkin and Liz Tosoni were in Malaysia during December's devastating tsunami. Having just visited Phi Phi Don Island, east of Phuket, Thailand, they filed this report:
"We are at anchor off Phuket again, having just returned from Phi Phi Don. As many of your readers know, this hour-glass shaped island is renowned for its spectacular beauty, towering limestone cliffs, beautiful white sand beaches, caves and a colorful, vibrant reef with lots of giant clams, and zillions of dazzling fish.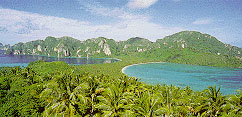 Phi Phi Don Island
Photo Courtesy Tom Morkin & Liz Tosoni
"It is known as a world-famous dive location, but it was also one of the islands that was so badly affected by the tsunami. Almost everything was wiped out and for weeks after the disastrous incident boatloads of dead bodies and countless tons of debris were offloaded. We saw it toward the end of January, and were shocked by the utter devastation. It was like a war zone.
"Now, almost three months after the tsunami, the progress is remarkable and readily evident. Many restaurants and small businesses are up and running, all clean and freshly painted. A lot of the rubble has been cleared away, construction is ongoing, and people are walking around with those famous Thai smiles on their faces. Hundreds of young backpacker types are everywhere, helping with the work: offloading materials, clearing the land, painting, you name it. We snorkeled the reef, while at the same time filling up the dinghy with all sorts of junk left from the tsunami - scrap metal, netting, bedding, clothing, plastic stuff, all manner of stuff. Then we took it ashore and added it to the other piles of stuff that will eventually be sifted through and dumped."