Photos of the Day
March 22 - Oxnard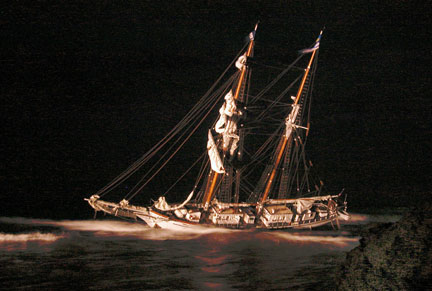 Photo Louise Ann Noeth
Today's Photo of the Day is a real heartbreaker. It's of the San Pedro-based tallship Irving Johnson on the beach yesterday afternoon just to the southeast of the entrance to the Channel Islands Yacht Harbor at Oxnard. Apparently the engine quit on the 90-ft brigantine just as she was about to enter the safety of the breakwater. Nobody was hurt, but everyone aboard had to jump into the 56 degree water to be rescued.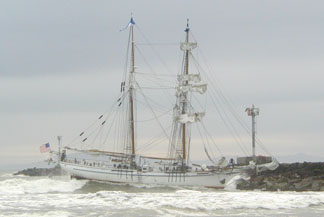 The Irving Johnson and Exy Johnson are sisterships built by the Los Angeles Maritime Institute to serve in the TopSail Youth Program, Commissioned in 2003, the twin wooden sail training vessels are the official Tall Ships of the City of Los Angeles.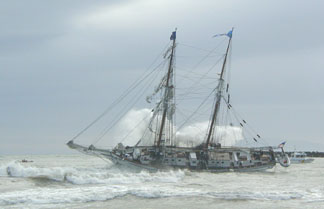 Daytime Photos Debby Dye of the Channel Islands-based Lovely Reta
Pete Caras, our man in the Channel Islands and the Grand Poobah of Baja Ha-Ha II, reported on the situation early this morning: "Tracy and I listened in here and there and spoke to a few official-looking types. Bottom line, all aboard are safe. They had to take to the water, and were then plucked out by the Channel Islands Harbor Patrol, Channel Islands lifeguards, and the Coast Guard. A tow boat/tug is presently parked at Port Hueneme tasked to the job of trying to pull the Irving Johnson off, but as of 0715 (high tide), no de-watering or tow-line attachments were underway. An environmental services truck is on the scene to, I assume, get the fuel off her. On the beach were a few boat parts, such as the port running light, bits of the light box, as well as some lumber that I believe may have come from the deadwood near the rudder. As of 0715, there was no fuel in the water, nor any smell of fuel. One of the official-looking types said that if the brig could be floated, she would be taken to either Ventura or Los Angeles for an assessment of the damage."