Spring One Design Regatta
March 21 - San Francisco Bay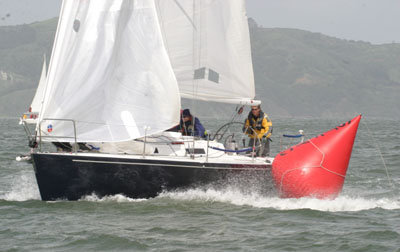 St. Francis YC held its third and final Spring Invitational this past weekend, hosting 40 'big' boats in three classes - J/120s, J/105s, and Express 37s (the Beneteau 36.7s and 40.7s were also invited, but couldn't get organized). It was a windy, occasionally rainy weekend and the crews had their hands full. Spinnakers blew out, the J/105 Aquavit broke her boom, three people fell off J/120s but were rescued, and so on. StFYC in-house photographer Chris Ray snapped some great shots of Saturday's action, a few of which appear here. Check out www.shutterfly.com/pro/crayivp/SpringOne for more.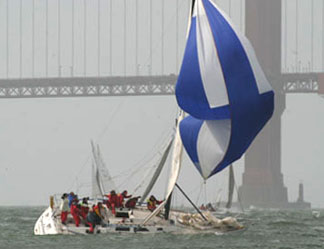 When the hurly-burly was done, the standout boat of the weekend was once again the J/105 Good Timin', steered by Chris Perkins. Tied with Scott Sellers' new steed Donkey Jack (ex-Luna Sea) after three races, Perkins threw the gloves off in race four, hammering Jack and the fleet with a decisive bullet to win the series and start Good Timin's quest for a sixth consecutive season title. It's no exaggeration to say that Perkins, also the tactician on Tom Coates' winning J/105 Masquerade at KWRW and Miami Race Week, is the hottest J/105 sailor on the planet right now. His crew - brothers Phil and JP, Dave Wilson, John Collins, and Susie Gregory - aren't exactly slouches, either.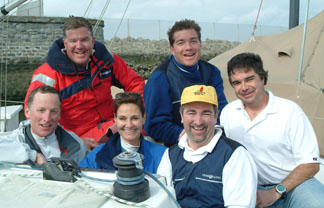 The Good Timin' gang
Photo Latitude/Rob
At the award ceremony on Sunday afternoon, the Good Timin' gang also received a surprise honor - Tom Roberts present them with a US Sailing Arthur B. Hanson Award for rescuing a swimmer off a J/120 in last year's Spring One Design Regatta. . . What is it about J/120s that they keep misplacing crewmembers?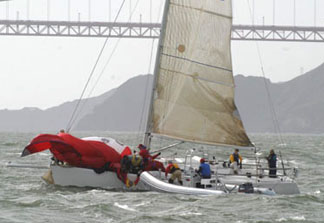 Weekend winners follow; as always, full results can be found at www.stfyc.com.
J/120 - 1) El Ocaso, Rick Wesslund. (8 boats; 5 races)
EXPRESS 37 - 1) Elan, Bill Riess. (3 boats; 4 races)
J/105 - 1) Good Timin', Chris & Phil Perkins/Dave Wilson. (29 boats; 4 races)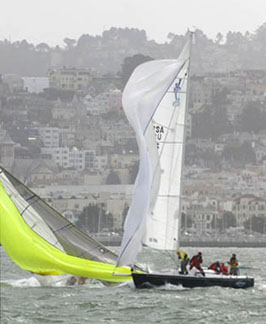 Photos Courtesy Chris Ray except as noted