Thirteenth Annual Banderas Bay Regatta Ends in Exciting Whimper
March 16 - Nuevo Vallarta, Mexico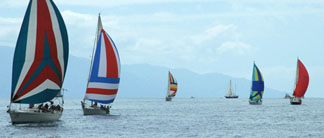 It's been one of the most overcast winters in years in Mexico, which contributed to the very light conditions in the last race.
The three-race Banderas Bay Regatta ended in uncharacteristically light conditions yesterday, with only one boat - Kevin and Nancy Reath's Puerto Vallarta-based Beneteau 40.7 Something Wicked - of the 25 boats in the racing divisions crossing the finish line by the 5 p.m. deadline. A handful of other boats, led by the cat Profligate, came within 150 feet of the finish in suddenly building winds before being denied. It was the most thrilling 4 hour DSQ we've ever had. Thanks to being the only racing boat to finish the third race, Something Wicked was the overall winner of the regatta.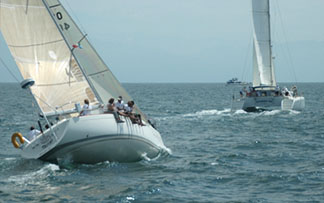 Something Wicked, the top boat in the regatta, chases Blair Grinols' Capricorn Cat, the top performing multihull.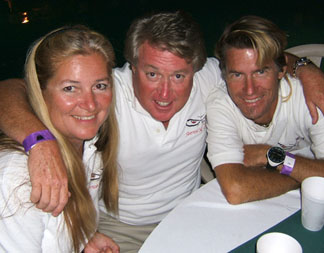 Sandy and Kevin Reath, with Mike of North Sails, celebrate Something Wicked's top performance.
Also performing large were the members - 16 of them - from North Flathead Lake YC in Montana. Pete Sauer's Jeanneau 36 Anamchara, sailed by Pete, his wife, two young kids, and four other members of the yacht club, took top honors in fleet 5. They'd also been the top boat in fleet for the first two days. Fellow North Flathead Lake YC member Jack Muir, with lots of other Montanaites as crew, took honors in fleet 3.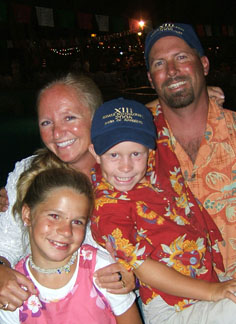 The Sauer family, Pete, wife Sandee, Haylee, 11, and Tristan, 7, celebrate their win with Anamchara.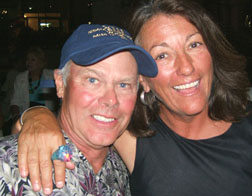 Jack and Sandy Muir of the Sabre 402 Tambourine won in fleet three. They are residents of Montana who cruise Mexico for three months each year.
The only disappointment in the whole event is that there weren't more participants. Given the facilities, the sailing conditions, the $0 entry fee, and the 50% off discount on berthing at Paradise Marina, this should be a 100-boat regatta every year. This year's only losers were those who didn't enter their own boats.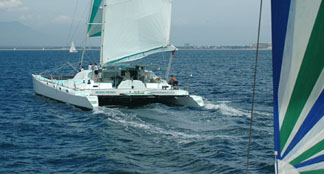 The big boat in this year's event was David Crowe's 70-ft cat Humu-Humu, which tied for first in the multihull division, but lost on the tie-breaker.
Photos Latitude/Richard