Pirates for Pupils Spinnaker Run for Charity
March 14 - Nuevo Vallarta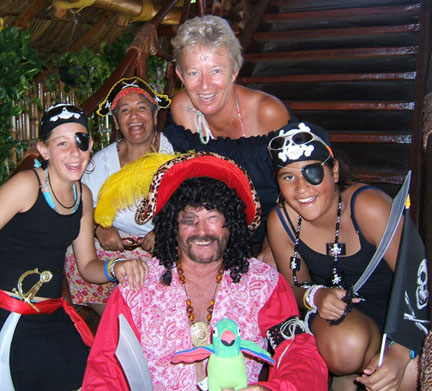 Costume winners Katie, far left, Michelle, far right, and Jeff Nelson in front. Judges Lupe of Moon & The Stars and Ronnie 'Tea Lady' are in back.
It's been a very active few days, with more to come, on Banderas Bay, Mexico. It all started with Friday's Pirates for Pupils 12-Mile Spinnaker Run for Charity from Punta Mita to Paradise Marina. With a big swell running, there were some wild times getting the 80 or so participants from the boats and through the big surf to the El Dorado restaurant for the costume festivities, then back through the surf to the boats before the start of the actual spinnaker run. Fortunately, nobody was killed while avoiding the waves and surfers. At least nobody reported being killed.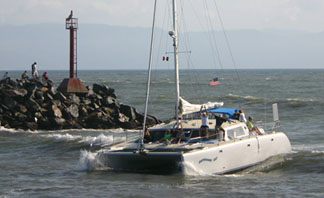 Yee-Ha! Blair and Joan Grinols' Capricorn Cat surfs down a wave in the channel leading to Paradise Marina. The Pirates for Pupils event had the boats arriving at the marina entrance at one of the lowest tides of the year.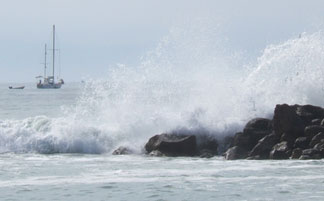 Surf was slamming into the breakwater.
Winning lobster lunches for the best costumes were the little sweethearts Katie and Michelle of Punta Mita, and in the male category, Jeff Nelson of the Cross 37 trimaran Moon Me. Ronnie of Tea Lady and Lupe of Moon & The Stars were the judges.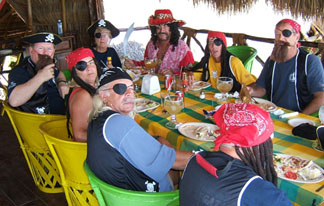 If we didn't know better, we'd swear that was Terry Klaus, owner of Brigadoon and last year's Commodore of the St. Francis YC, at the far left of the Break 'n Wind pirates table.
Following lunch and braving the surf back to the boats, there was a great spinnaker run in ideal conditions across beautiful Banderas Bay. Most of the folks who donated money were aboard the packed cats Capricorn Cat, Humu-Humu, Dolce Vita, and Profligate. In addition, three monohulls participated, including John and Nancy Moore's Break 'N Wind.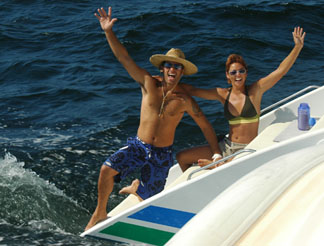 Nic & Nic of the San Francisco-based Morgan 38 Stargazer enjoying the charity run from Punta Mita to Paradise Marina.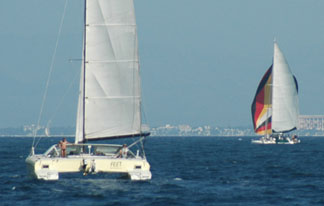 The Northern California-based Hughes 38 cat Feet trails Mai Dolche's Belvedere-based Marquesas 56 cat Dolce Vita about halfway across Banderas Bay.
All Photos Latitude/Richard except for Capricorn Cat surfing down channel, by David and Leslie Emery of the San Diego-based Hunter Passage 450 Sun Break.
A little more than $1,000 was raised, $500 of it from last year's Ha-Ha fleet. This is nothing compared to the Zihua SailFest, of course, but it's a start.