Photos of the Day: Puerto Vallarta Race
February 18 - Marina del Rey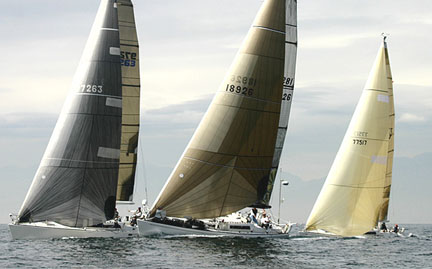 Left to right: Bay Wolf, Horizon, and Chicken Little take off in Wednesday's PHRF B start.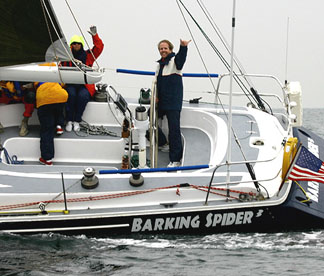 Barking Spider's David Kory was granted his request for a wind change. The MacGregor 65 started yesterday (Thursday) along with the TP-52s Beau Geste and Flash.

A trio of big boats - Pyewacket, Magnitude 80, and Scout Spirit (ex-Zephyrus IV, ex-Bright Star) - took off today in Del Rey YC's 18th Biennial Puerto Vallarta Race. They'll be chasing the rest of the small fleet (10 cruisers and six other racers) over the 1,125-mile course, hoping to beat the MacGregor 65 Joss's record of just under 5 days.
Conspicuously absent from today's start was Genuine Risk, Randall Pittman's canting-keel Dubois 90. "We have crew members with major family problems, and we couldn't get replacements in time," claimed boat captain Duthie Lidgard, who informed the crew on Wednesday that Pittman, who had injured his foot, was pulling the plug. Something doesn't quite add up, but we don't have time to chase down 'the story behind the story' here. Didn't Roy Disney break his leg before the '97 TransPac? Didn't he send his boat anyway, setting the record?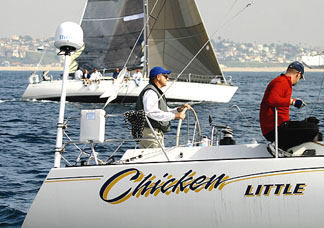 Even start for Chicken Little, Horizon.
Photos Rich Roberts
As of yesterday, division leaders were: PHRF A - Beau Geste, TP-52; PHRF B - Chicken Little, SC 50; Salsa A (spinnaker) - Lark, J/46; Salsa B (spinnaker) - Green Dragon, Catalina 380; Non-Spinnaker - Lazy Bones, Irwin 54. So far, the race has been upwind, lumpy and rainy - apparently a good one to miss. According to Stan Honey, Pyewacket's navigator, the forecast for the big boats calls for a day and a half or so of upwind sailing, a day of slatting, and then a light air run to the finish. We suspect Pyewacket will break the 20-year-old record anyway.
Follow the fleet's progress at www.dryc.org.