Mystery Photo Explained
February 16 - San Francisco Bay
Do people read 'Lectronic? All we can tell you is that in the first two hours after Monday's posting was up, 62 people had actually gone to the trouble of trying to answer our mystery photo by Erik Simonson. Here is a sample of the answers:
J.E.B. Pickett - "It's a bright orange foot broken off from a giant Ronald McDonald statue."
Terry Glenn - "It is the front end of the nuclear sub San Francisco that hit Harding Rock on Friday. This is the section that holds the reactor, which explains the warm color."
Gary Scheier says, "It looks like the lifeboat for the captain of a cruise ship."
Pam Mitchell actually knew what she was talking about: "It's an emergency life raft from a big ship. When our Lake Tahoe Boy Scout Troop 37 was visiting the Bay Area, we were invited aboard a cargo carrier ship that was getting ready to load supplies for our soldiers in Iraq. One of the highlights was seeing a lifeboat just like the one in the photo. The crew claimed they could put up to 50 - that's right! - people on board for an emergency evacuation! And there were even 50 harnesses on board that little thing! The boys were impressed by the fact that once everyone was tucked inside, they released the lines and it fell from that great height down into the water. I would imagine that everyone would get quite sick in that small tight space, bobbing on rough seas!"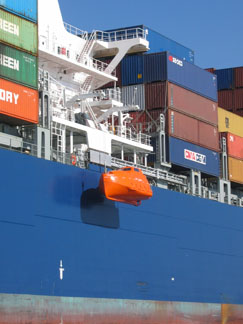 Here's the subject of the 'Mystery Photo' in place on a ship.
Photo Copyright 2005 Erik S. Simonson
James Bennett knows what he's talking about also: "The photo is of a fire-proof lifeboat, probably off a chemical or oil tanker. These lifeboats are typically designed to launch off an elevated slipway mounted on the aft end of the tanker. This feature ensures that the lifeboat is ejected clear of the tanker and any fire hazards. The lifeboat will be equipped with water spray down systems to allow it to travel through flames on the water. The engine has an air bottle so that no outside air is injected until the lifeboat is well clear of danger."
Tim Dick had more: "It's a free fall SOLAS-approved lifeboat. These are mounted on what looks like avery short 'ski jump' slope usually on the stern of a ship. The crew piles in via the stern door, straps into race-car type seats via six-point safety harnesses, and the lifeboat plunges over the stern into the water. According to SOLAS regulations, these boats are supposed to be tested every three months. Obviously the old dictum that 'one should always step up into a liferaft' doesn't apply to ships.
Rick Leach of Monterey Bay Aquarium even knows who makes them. "They are manufactured by Guangxi Materials General Group Corporation of China."
Ben Jones says you can get one for your boat: "Oddly enough, these are now available in 4-man and 6-man size, sans motor for smaller boats as well."
Mik Beatie warns they don't always work: "When the ship sinks, you just jump in, hang on tight, pull the ripcord, and off you go. At least you hope. I know that a few years ago, a crew jumped in, pulled the ripcord, and nothing happened! They went down with the ship."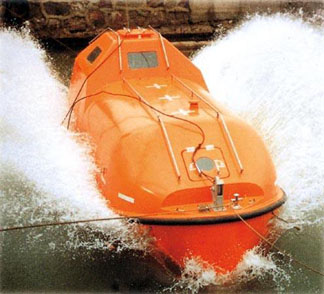 A pod at the moment of impact with the water