Berkeley YC Midwinters
February 14 - Berkeley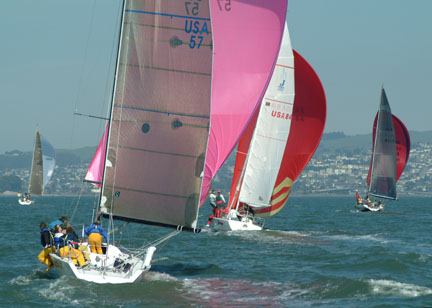 The Mumm 30 Racer X chases the J/105 Advantage3.
Saturday's fourth and final Berkeley YC Midwinter race was sailed in a 10-12 knot westerly under sunny skies - as good as it gets in February around here. After a 55-minute postponement, 83 racers were treated to an 8.8-mile triangle, windward-leeward course on the Berkeley Circle, using 'F' as the upwind mark. For once, the wind stayed steady, offering a fair test of tactics and boatspeed. "Finally! A perfect day!" claimed race co-chair Bobbi Tosse.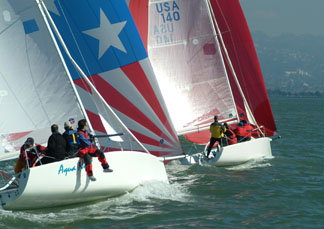 A pair of Melgi in the hunt
Sunday's race, we're told, was pleasant despite lighter winds and no sun. Just 24 boats showed up for the race, which, with winds from the southeast, used 'D' as the windward mark. Both Saturday and Sunday series are now over, though podium finishers will progress to the Champion of Champions on Sunday, February 27.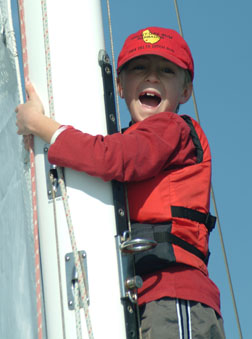 Nine-year-old Hayden Stapleton shinnies up Cal Ypso's mast to search for wind.
Class winners from the weekend follow. Overall winners of both series can be found at www.berkeleyyc.org.
SATURDAY SERIES (Feb. 12):
DIV. A (< 79) - Bodacious, Farr One Ton, John Clauser. (9 boats)
DIV. B (81-135) - Petard, Farr 36, Keith Buck/Andy Newell. (10 boats)
DIV C (138-168) - Synchronicity, Olson 25, Steve Smith. (9 boats)
DIV. D (> 170) - Ypso, Cal 2-27, Tim Stapleton. (6 boats)
SF 30s - Jane Doe, Olson 911-SE, Bob Izmarian. (10 boats)
OLSON 30 - Hoot, Andy Macfie. (7 boats)
NEWPORT 30 - Harry, Dick Aronoff. (5 boats)
ANTRIM 27 - Mirador, Jody Harris. (4 boats)
MERIT 25 - Twilight Zone, Paul Kamen. (5 boats)
MELGES 24 - Personal Puff, Dan Hauserman. (3 boats)
MOORE 24 - Flying Tiger, Vaughn Seifers. (10 boats)
J/24 - Snowjob, Brian Goepfrich. (3 boats)
SUNDAY SERIES (Feb. 13):
DIV. I (< 91) - Personal Puff, Melges 24, Dan Hauserman. (5 boats)
DIV. II (93-165) - Flexi Flyer, Soverel 33, Mitch Wells. (6 boats)
DIV. III (168) - Frog Lips, J/24, Richard Stockdale. (5 boats)
DIV. IV (> 170) - Latin Lass, Catalina 27, Bill Chapman. (5 boats)
OLSON 30 - Hoot, Andy Macfie. (3 boats)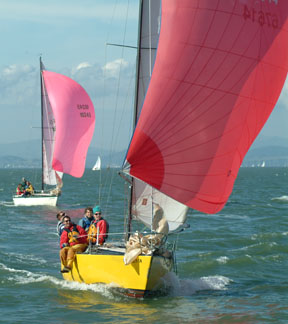 Twilight Zone on the way to a Merit 25 win
Photos Latitude/Rob