Grossman Going to Bat for Cruisers in Mexico City
February 11 - Mexico City, Mexico
Tere Grossman of San Carlos Marina, who also happens to be the head of the Mexican Marina Owners Association, was under the impression that no port captains on the Pacific Coast of Mexico were requiring cruisers to use an agent to check in and out of ports. We told her that wasn't true, as port captains in Mazatlan and Puerto Vallarta are both requiring the use of agents. Grossman is not happy about it, and she's in Mexico City today to meet with the Director of Port Captains to see if something can't be done about it.
How much can an agent add to the cost of a stop? Larry and Tammy Seminutin of the Vernon, Canada-based Corbin 39 Semicrazed tell us a required agent cost them $75 U.S. for a two-day stop in Mazatlan. "We were going to leave our boat there for the summer," the couple told us, "but after that kind of gouging, we're not going back at all."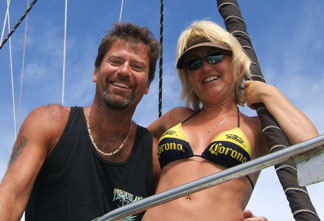 Feeling ripped off by the price of agent fees, Larry and Tammy vow not to return to Mazatlan.
Photo Courtesy Semicrazed
Tere Grossman also reports that the Temporary Import Permits, which used to be free, have been $50 U.S. since January 1.
In other clearing news from Mexico, the Port Captain at San Blas has been reported to be very nice, and unlike before, doesn't require the use of an agent. He reported, "We got rid of that guy!"
We've also been told that Puerto Escondido has been almost completely empty since a private company began charging outrageous rates to anchor or moor in the once popular port. The new word is that prices will be dropped 30%, which is more reasonable, but still far too high.