Standby for "Drivel"
February 9 - Banderas Bay, Mexico
A reader recently complained that our reports from places like the Caribbean and Mexico were "drivel." Everyone is entitled to their opinion, of course, so if you are one of those who think the reports are indeed drivel, you'll want to skip the following - and be happy you didn't pay any money for it.
The Wanderer and Doña de Mallorca arrived in Nuevo Vallarta/Banderas Bay about a week ago with high hopes of making it south to Zihua for the Sail Fest. Alas, we arrived too exhausted to do a 700-mile round trip, in addition to the four days of festivities, in just 10 days. So we had to bail out on that great charity event. However, the Wanderer spoke to Ha-Ha Honcho Lauren Spindler, who has pledged $500 to the charity on behalf of last fall's Ha-Ha fleet.
This hasn't been the best weather year in Mexico. Starting right after the Ha-Ha, there were some nasty electrical storms, blustery weather all along the mainland coast, and for the last week it's been mostly overcast with several days of heavy rain! Most atypical. The only compensation is that it's plenty warm, as always, with unusually good surf.
The overcast weather has at least been conducive to making new friends here on Banderas Bay, such as Jack Carson and Monica Guildersleeve of the B.C.-based steel bilge-keeled junk-rigged cat ketch Bella Via. They are both artists, and paid for nearly half of their five-year circumnavigation with Monica's daughters by selling their artwork. After their circumnavigation they spent seven years doing survey work on the rugged west coast waters of Canada between the northern tip of Vancouver Island and the Alaskan border. The survey work required diving to 60 feet 3 to 20 times a week, sometimes with ice on the surface. Read all about that and the 'origami' boat they built for the job, the masts of which were scrap light standards from the Vancouver Airport, in the March issue of Latitude 38.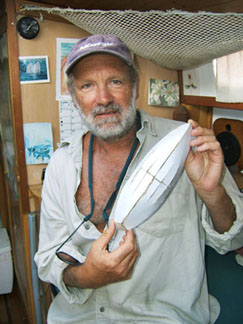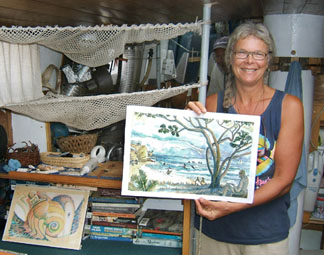 Jack and Monica, and some of their artwork
Low on fuel, we stopped at Opequimar Boatyard in Puerto Vallarta to fill up. Desperado Marine runs a chandlery and lunch counter there. Overseeing the lunch and bar operations is Flor, wearing a bare-midriff blouse, mini-skirt, and always mischievous smile. It's a good look.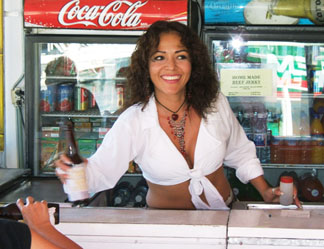 Flor
A few miles away at Nuevo Vallarta, we met with Jim Ketler, Commodore of the Vallarta YC, and Doug Campbell, Vice Commodore. They report that the club has over 300 members and is doing well. Their big event of the year, the Banderas Bay Regatta, is next month, and the number of entries looks good. Jim and Doug were nice enough to pose in front of the downstairs pool that the club shares with marina guests. We've said it before and we've said it again, there's no cruising regatta that has better sailing conditions or a better venue than the Banderas Bay Regatta. You can count on 8-18 knots of wind, flat water, the course being right outside the nice marina, and as soon as you're done it's only a few feet to the pool and jacuzzi, which are surrounded by tropical plants. More on the club in the next Latitude.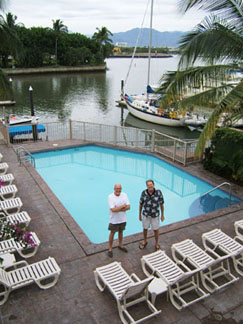 Jim Ketler and Doug Campbell
We also paid a call on Philo Hayward, who has been running Philo's Bar/Restaurant/Music Hall/Motel/Internet Cafe/Community Center in La Cruz in the winter, and cruising the South Pacific in the summer. That is until last fall, when he was able to quickly sell his Cal 36 Cherokee Spirit in New Caledonia. Philo says that things are growing as quickly in La Cruz as they are in the rest of Banderas Bay, and that work is slated to begin next month on a 120-berth marina in La Cruz. He's not sure the marina will really hold 120 boats, but he's being told they really are building a marina. Philo is doing a great job for the La Cruz community as well as cruisers. We'll have more about it in the next Latitude.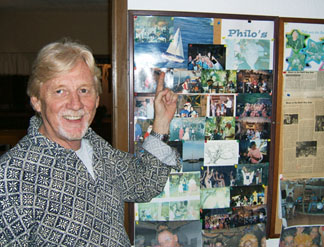 Philo Hayward
That's it for today's drivel, as a good swell has just come up at the 'Mexican Malibu', and we've got some waves to catch. As for tomorrow, it should be a beautiful spinnaker run back to the marina. Wish you were here.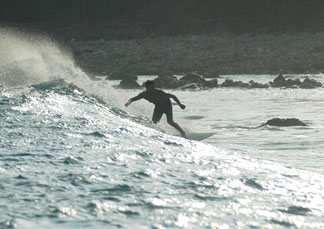 Photos Latitude/Richard