News Flash: MacArthur Completes Solo Circumnavigation, Shattering Joyon's Record
February 7 - Ushant, France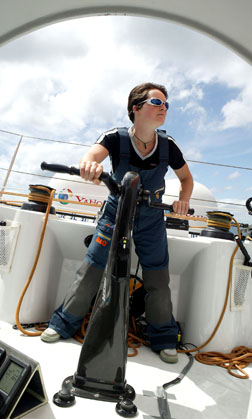 Photo DPPI / Ivor Wilkins
She did it! At 10:29 p.m. GMT, British singlehander Ellen MacArthur completed her nonstop lap around the planet aboard the 75-ft trimaran B&Q, in a record-breaking time of 71 days, 14 hours, 18 minutes, 33 seconds. "I cannot believe it, I absolutely cannot believe it. . . It's been an absolutely unbelievable journey, both physically and mentally. I'm absolutely overjoyed." Tonight's finish beat Frenchman Francis Joyon's 2004 mark by 1 day and 8 hours - a truly remarkable accomplishment considering that Joyon, sailing aboard the 90-ft tri IDEC, had shaved over 20 days his predecessor's record.
Already the most popular British sailing sensation since Sir Francis Chichester, Ellen's star power will now surely climb into the stratosphere. We'd be very surprised, in fact, if she too isn't knighted.
During her record run Ellen's track covered 27,354 miles at an average speed of 15.9 knots. As we salute Ellen's incredible achievement, we only wish we could on the Falmouth docks Tuesday when B&Q makes her historic landfall!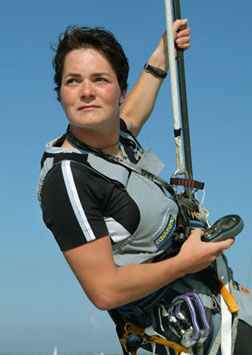 Ellen MacArthur aboard B&Q
Photo DPPI / John Bandsilled / B&G