Remember Wind? continued ...
February 7 - San Francisco Bay
We received this response to our piece in Friday's Lectronic Latitude from Michael Moore:
My wife was doing a bit of surfing this morning and came on 'Lectronic Latitude, and saw the photo sequence of Hoot rounding down. It's really hard to believe that was 10 years ago. Since the text pretty much said you guys don't remember anything about the event, I'll do my best.
First of all, that crash was indeed right under the Golden Gate Bridge. It was at the end of the Crewed Light Ship Race. The photos were taken by a guy named Donald Hilbun, I believe. The crew included owners Andy and Annette Mcfie, me, another guy named Dom, and a bow man named Glen. There was probably someone else, but as they say here in the South, I've slept since then.
I was spending a nice quiet evening at home when Andy called wanting to know if I could sail the Crewed Light Ship with him. As my wife was a regular and scheduled to sail the race with Tim and Karen Knowles on Dragon Song, I made it a condition that Andy promise to beat Dragon Song. I think the response was "I could beat that old man with one arm tied behind my back!"
The only early setback I remember was getting to the boat with no boots, so I sailed the whole race in sandals. I remember a nice uneventful trip to the Light Bucket. But there were squalls waiting out there. Just as we rounded there was one coming in. We were somewhat dumbfounded when Andy said we would outrun it. He gave it a great try. It was one hell of a ride before we finally found the back of a wave with the bow. After cleaning up and looking around, discretion seemed the better part, so we jib reached for a while.
Eventually conditions moderated a bit, and the kite was an option again. We enjoyed a nice sail down the channel and eventually were approaching the South Tower on port jibe with Zamazan outside of us. And that is where the story really got interesting. It was clear that we were going to want to jibe shortly after passing the south tower. But we were all pretty much just concerned with getting past the South Tower Demon in the newly building conditions without incident.
And then I looked across to Zamazan, and my heart missed a beat.
Mike: "Andy, they are going to jibe."
Andy: "No way. No one in their right mind would jibe in here."
Mike: "Yes, they are. There is a man at the mast and a man in the pulpit."
Andy: "No, there must be something else going on."
Mike: "Andy, they are going to jibe. There goes the butt end up, trip ... pole is through ... they jibed."
So right at the South Tower, we jibe. No problem, everything is great, watch the puff, ease ... Ease ... EASE ... EASE THE DAMN KITE!!!!!!!!!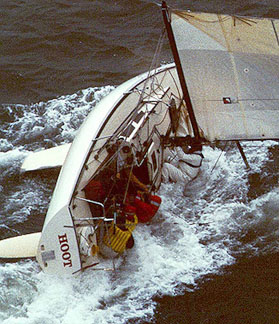 Photo Donald Hilbun
I swear I was trying. But the winch was loaded up with about 5 wraps having just been occupied by the guy. As I was easing sheet, it was pooling at my feet, all bound up on the winch. You've seen the result. The best line of the day came just before the boom dropped.
Andy: "Don't ease anything ... I can steer out of it!" I suppose he was doing a great job of drying the rudder out wiggling it around like that. We eventually recovered, and got sailing just in time to watch Dragon Song go sailing by, all smiles.
Ahh the memories, they are all I have left for now, living in Tennessee, and working in North Georgia. Lake sailing hardly scratches the itch. Thanks for posting the pictures again. And you were right, you did run them right away.