2004 Rolex Yachtsman and Yachtswoman of the Year Awards
January 12 - Portsmouth, RI
Paul Foerster (Rockwall, TX) and his crew Kevin Burnham, (Miami, FL), along with Jody Swanson (Buffalo, NY), today were named the respective winners of the prestigious 2004 Rolex Yachtsman and Yachtswoman of the Year Awards. A panel of sailing journalists selected the sailors for the distinction from the longest shortlist in recent years - 13 nominees for the Rolex Yachtsman and nine nominees for the Rolex Yachtswoman. The winners will be honored and presented with specially engraved Rolex timepieces at a February 25 luncheon at the New York YC in Manhattan.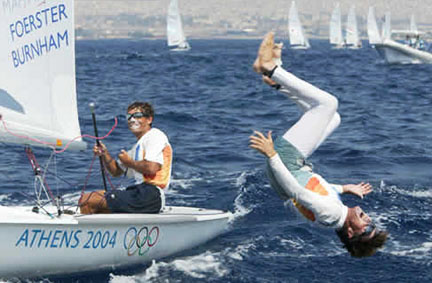 First-time winners of the Rolex Yachtsman of the Year Award, Paul Foerster and Kevin Burnham were recognized for their gold medal performance at the Athens 2004 Olympic Games in the 27-boat 470 Men's event. Foerster, a four-time Olympian, and Burnham, a three-time Olympian, had both medalled in the event before, although not together.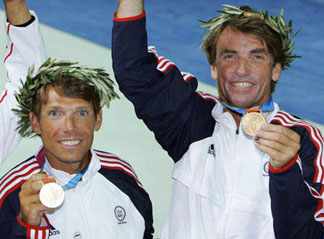 Paul Foerster (left) and Kevin Burnham with their Gold Medals
Photos Above Daniel Forster
"I am very honored to be selected with my teammate Kevin as the 2004 Rolex Yachtsman of the Year," said Foerster. "I have admired the accomplishments of the past winners and would like to thank all of Kevin's and my friends, family and coaches who made our accomplishments possible this past year."
"It's just a great honor to have this recognition for our efforts at the Olympics," added Burnham. "To have our names grace the trophy with all the great sailors in the USA is really something."
Recognized for her second time as Rolex Yachtswoman of the Year (she first received the award in 1989), Jody Swanson earned accolades for her win of the 2004 Lightning North American Championship held at the Buffalo Canoe Club in Ontario, Canada. Sailing the August event with crew Skip Dieball and Tom Starck in conditions that ranged from drifting to 25+ knots, Swanson topped a fleet of 103 boats that included many notable sailors. Members of the selection panel remarked on "her impressive win in a deep fleet", while noting that no sailor dominates this class year-after-year.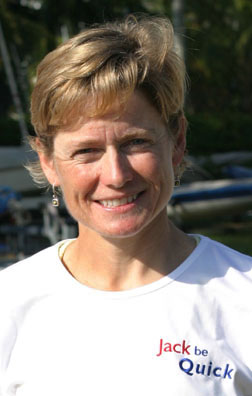 Photo Dan Nerney
"I just love the sport and racing sailboats," said Swanson. "That is what keeps bringing me out there. Winning this award again is just as meaningful as the first time (1989) because it is such an honor. I was very honored to be nominated, and to win among this talented group of women is such a thrill."