Nuts to Nikon, Because Fujifilm Is Finer
January 10 - St. Barth, FWI
If you care about taking sailing photos, or just photos around the water where there are lots of greens and blues, the quality of color is going to be very important. But if you're not a professional photographer, you might not realize that there's a tremendous amount of difference in the quality of the color among the different brands of digital cameras.
When we at Latitude bought our first digital SLR camera - in the bad old days when they cost a king's ransom - it was a Fuji FinePix S1. But when we got it, the body was so flimsy that we immediately returned it for a much more expensive Nikon D-1 that everybody was raving about. How could the D-1 not be great? It cost more, it was 'the' camera of all the professionals, and therefore we assumed had to be the Buddha of shutter snapping. Well, the D-1 had great features for the time, was built like a nuclear bomb shelter, but took surprisingly dull photos. We were quite disappointed.
When the second round of digital SLRs came around, they were much cheaper and had a lot of great features. Since the Fuji FinePix S2, their newer model, came in a more robust body, we invested in several of those. We were extremely happy with the color, as every shot had better color than what we got from our old Nikons. Alas, the camera didn't work quite a well as the Nikon, and they weren't as reliable.
Indeed, when we arrived in St. Barth, the monitor on the back of the camera started to only work intermittently, then gave out. With all the great yachts around, we had to get a replacement camera immediately.
Fortunately, St. Martin - where they have great deals on jewelry, electronics, cameras and other stuff - was only 16 miles away. And, several of the stores were carrying the Nikon D-70, which every digital camera reviewer had been coronating as the greatest-for-the-price digital camera ever. And since it only cost $900 - $100 less than we'd seen advertised anywhere in the U.S. - we bought one. As we fooled around with the camera, we were tremendously impressed. It was compact and everything worked terrifically. Plus, the rechargeable batteries lasted about 10 times as long as those in the FinePix.
Then we took a couple of hundred photos of the Around the Island Race - and were crestfallen to discover that the Nikon's color wasn't any better than the D-1's. The photos weren't horrible, but we couldn't give them more than a C- against an A+ for the FinePix 2.
Think we're full of baloney? Check out the accompanying shots and see for yourself. The first was taken from the porch of our little room in St. Barth with a $250 Fuji FinePix S3000, and the second taken with the heralded Nikon D-70. The Fuji's color is clearly superior, is it not?

The Fuji looks at the world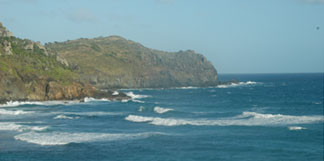 The Nikon view of the same world
Photos Latitude/Richard
When we've asked professional photographers who use Nikons what they do with their photos, they've talked about touching up the color in Photoshop - right, shoot 300 photos in an afternoon and then spend a week fixing them up - or downloading some color adjustment program from the Internet. What nonsense! Why doesn't Nikon just license Fujifilm's color program?
The bottom line is that when we get back to Northern California in a couple of days, we'll have a once-used Nikon D-70 for sale at a very attractive price.
Some of you will suggest that we pick up a new Fujifilm FinePix F3 as our next camera. We would, had they not decided to make it a very high end camera with 12 million pixels - 9 million of which aren't needed for most purposes - and attached a fat price tag.
All this is a very long way of recommending that sailing readers looking for a digital camera for use around boats and the water buy a Fujifilm. Or at least check out its color compared to that of other brands.
By the way, you can get incredible digital cameras for just a couple of hundred dollars now, with up to 10 times optical zoom and other great features. The one thing you still have to pay at least $900 for is minimal shutter delay, which is necessary for being able to reliably capture action photographs.