Oryx Quest
January 7 - Doha, Qatar
In less than a month - February 5, to be precise - four of the world's eight jumbo multihulls will shove off from the oil-and-gas rich port of Doha, Qatar, and race nonstop around the world in the Oryx Quest 2005. The quartet, all over 100 feet and tried-and-true veterans of previous circumnavigations, are the trimaran Geronimo (skipper Olivier de Kersauson, FRA) and three cats: Cheyenne (ex-PlayStation, David Scully, USA), Qatar (ex-Club Med, ex-Maiden II, Brian Thompson, GBR), and the long-in-the-tooth Daedalus (ex-ENZA, Tony Bullimore, GBR). The winner of the mad dash will take home a cool million U.S.; second place will reap $300,000; third will get $200,000; and fourth, nada. We suspect there's more than a little appearance money involved, too - making this a pretty nice paycheck for almost everybody involved.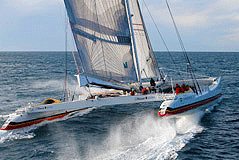 Cheyenne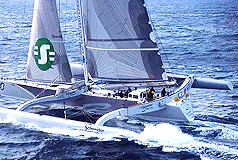 Geronimo
Photos Courtesy www.qisel.com
Because Qatar (pronounced like 'cotter', as in 'Qatar pin', more or less) is located in the Middle East instead of Europe, the race is somewhat shorter - about 20,000 miles vs. the more standard 24,000 mile course - and is projected to take around 50 days. (The Jules Verne record, currently owned by Geronimo, is 63.5 days, and the absolute record, set by PlayStation in April 2004, is 58 days and 9 hours.) The way we see it, the race will come down to a tussle between the two 'Indian boats'. Cheyenne will be fastest off the wind and in the Southern Ocean, but Geronimo will have an edge upwind, which will include the homestretch. The two have never squared off before, so who knows what will happen?
The new event is the brainchild of female British sailing star Tracy Edwards, who sold this race and another one, the Quest Qatar 2006 (another race for mega-multihulls, but with stopovers), to the wealthy, sports-loving Qatarians - none of whom are actually sailing in the race. Another person (and boat) you won't find at either Oryx Quest is Bruno Peyron, skipper of Orange II and organizer of The Race, which attracted six boats in its first and only running. Peyron apparently is livid with Edwards - not to mention suing her - for undermining his second edition of The Race, which was meant to take off at about the same time. Like the song says, "money changes everything" - and the Qatar events obviously have barrelfuls of it.
Intrigue, money, icebergs, politics, lawsuits, and did we mention money? This race has it all! It even has a Bay Area connection - inimitable Kiwi multihuller Peter Hogg will be spending 10 days in Doha as one of four members of the international race committee. Hogg is naturally excited about the upcoming race, and promises to fill us in more thoroughly on it as the time approaches. He's also hoping to sneak off to the 'camel races' while over there - Hogg swears such a thing exists, but he doesn't think you can bet on them.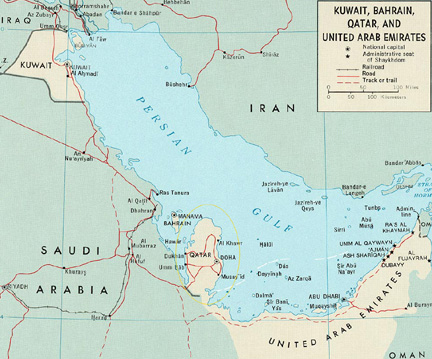 The tiny Persian Gulf country of Qatar occupies a peninsula off of Saudi Arabia. Doha, the capital, is midway down the east coast.
Map Courtesy University of Texas Libraries
See www.lib.utexas.edu/maps/middle_east.html