The St. Barth Report
January 3 - St. Barth, FWI
You can never count on the weather, can you? When you visualize the Caribbean, you think of lots of bright sunshine and pleasant ocean conditions. But there is no guarantee, particularly in December and January, which can feature the most relentless winds and roughest seas of the year. Well, we've not had much good weather since we arrived back on December 26. In fact, we had one great sailing day for the around-the-island parade, and one other sunny day, but the rest of the time it's been partially or completely overcast, which among other things, deadens all the usually vivid Caribbean colors. It's been plenty warm, of course, even at night and during the few times it's drizzled. And the water temperature is in the high 80s, which is too cold for locals to swim, but like a hot tub for Californians.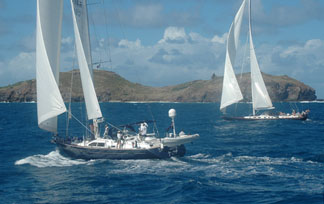 What the Caribbean is supposed to look like - and does for most of the year
On an individual level, this year's trip to the Caribbean has been marred by our coming down with a nasty case of the flu. We were completely down for two days, and have been way off pace for five days. The worst part of this is that it's meant we never got to properly hook up with sailors from Northern California.
Just before New Year's, for example, we bumped into Chris Havel of Oakland, who spent the summer cruising the Northeast with his wife and two children aboard the Stevens 47 Providence. Expecting to meet up with the whole family a day or two later, we didn't get a photo of any of them, just their boat!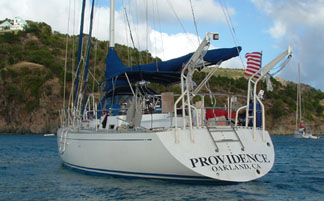 The Havel family's S&S 47 Providence
We did, however, get to meet up with John and Cynthia Tindle of the Hermosa Beach Jeanneau 36 Utopia. The couple spent several years cruising Mexico on a boat of the same name, and have been in the Caribbean for the last several years. We sat down with them at Le Select just as a band broke into a song - and nearly shattered our eardrums. We quickly agreed to meet up again soon, but we were too sick. We never even got to see Mattie the boat dog.
We also met a gentleman from Santa Cruz just because he was walking down the street wearing a Santa Cruz YC T-shirt. In a rush, we never even caught his name. We think his boat is a F/P 42 cat named Ha Pai or something similar, and that he'd sailed down from the East Coast a short time ago.
It wasn't until January 3 that we'd recovered enough from our flu to be out and about, and by this time all these good folks were gone. Damn!
In fact, the whole inner harbor and outer anchorage were devoid of the hundreds of megayachts and thousands of flash people who had gathered only days before. And frankly, that was fine with us. We enjoy the buzz up to New Year's celebration, but we enjoy it even more when all the too rich and too cool people go back to wherever they came from and allow the island to resume its village-like quality. The only exception is model Brooke Burke. She can stay as long as she wants.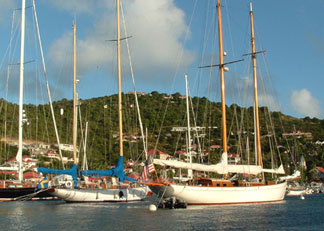 Harbor scene in Gustavia. Not all billionaires buy glitzy yachts. Global financier George Soros had this lovely 65-ft schooner Juno built by traditional methods 18 months ago in Martha's Vineyard.
When we're back home, our life consists almost entirely of work, so even though we've lived in the same house for 23 years, we don't even know our neighbors let alone talk to them. When we come to St. Barth, we have time to just hang around and chat with all kinds of regular folks, most of whom live very different lives from us. It's a wonderful tonic.
Take Diane and Karl, who own the Internet cafe we visit almost daily. Each day they practice their English with us and we butcher a little French. The other day they pulled out this avocado, which they say came from their farm in Guadaloupe, which is about 150 miles away. This avo was huge, and had wonderfully consistent texture and flavor.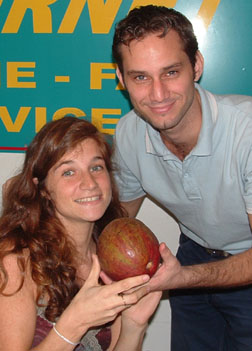 Diane and Karl with a homegrown avocado they presented to us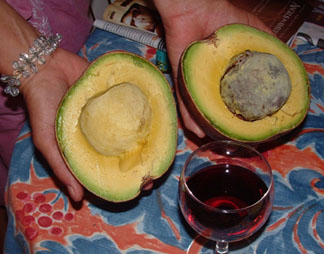 The avo in action. Down in the Caribbean, avos grow really big. The texture and consistency were excellent, but the flavor wasn't as intense as one from Santa Barbara.
Photos Latitude/Richard
And just walking around the harbor is great, as you're always seeing folks you haven't seen in nearly a year or meeting interesting new folks. Because summer is hurricane season, most everybody has spent the summer in the Med or Northeast and is full of tales.
One guy from nearby St. Martin who stayed in the Caribbean last summer was Jerry Blakeslee, formerly of the Bay Area and always of Bay Island Yachts. Having tired of having to live with hurricanes, last summer he said goodbye to St. Martin for good, and took his boat to Grenada, which as we all know is south of the hurricane zone. That's right, poor Jerry was there for Ivan, Grenada's first hurricane in 150 years! We'll get more on that story later.