Would You Look at the Color of that Water!
December 22 - Gustavia, St. Barth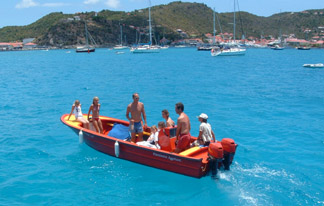 Photo Latitude/Richard
It's the water color of the Gustavia anchorage at St. Barth in the French West Indies. And it's not the result of fooling around in Photoshop - that's really the way it looks. We bring this up because, as on every Christmas Day, we'll be flying to St. Barth to begin our winter sailing coverage in the Caribbean. If you're a West Coast boat, we'll be keeping an eye out for you, and would love to chat. Or, you can leave a note for us on the bulletin board just outside the port captain's office.
Last winter we based Profligate out of St. Barth, and we can't even begin to tell you what wonderful, wonderful times we had. Remembering things as common as driving back to the boat in the dinghy at night bring a smile to our faces. Alas, Profligate is in Mexico for the winter (where we may do the Zihua SailFest and certainly will do the Banderas Bay Regatta). However, several people have asked us if we're going to do the Heineken Regatta again, this being the 25th year. If enough folks want to do it - it's the first weekend in March - we'll happily charter a boat and give it a go. It would probably cost about $1,500 not counting air fare.