Sausalito Challenges for the 2007 America's Cup
December 13 - Sausalito
The following report was written by Jan Pehrson of Sausalito, who closely follows the America's Cup around the globe, and appears in today's Marin County Independent Journal:
A quorum of members from the Sausalito Yacht Club voted Sunday, December 12, to adopt the Sausalito Challenge's entry for the 2007 America's Cup. The vote means that the yacht club will immediately file paperwork for an official challenge, and that John Sweeney's organization has cleared enough hurdles to post a bond worth more than $1 million to ensure the Marin team's spot in the series.
"We are really gratified there was such a large amount of support," said Sausalito Yacht Club Vice Commodore Tim Prouty. "In our largest business meeting in years, with more than 200 members voting, the approval was resounding and nearly unanimous. Now the easy part is over and we are out to win the Cup."
"This is a big honor for us," Sausalito Yacht Club Commodore Marge Bottari said. "The conditions here for sailing are the best in the world. I look around me here and all I see are masts, which shows me what people like to do around here."
"The club did a great job of getting out the membership," said Sweeney. Sweeney, a Tiburon resident, is passionate about America's Cup yachting. In his quest to bring the sport's most prestigious event to the natural amphitheater of the San Francisco Bay, he decided, along with partner Tina Kleinjan, to mount a challenge for the 2007 series in Valencia, Spain.
The America's Cup, the oldest trophy in sport, is governed by the Deed of Gift written in 1887. The deed says that all challenges must come from yacht clubs. No individual, no matter how rich or famous, can qualify. This rule necessitates partnerships between the syndicates, called challengers, and the yacht clubs, called challenging yacht clubs.
"The syndicate puts up the dollars and runs the event," said Sausalito's Chuck Riley, co-founder of Marin's first cup challenge, America True, with his daughter Dawn.
"No individual can challenge," said Riley, "hence we chose San Francisco YC. Larry Ellison has Golden Gate YC. Tom Blackaller, skipper of the first San Francisco challenge for the America's Cup in 1987, had St. Francis YC; Dennis Connor had San Diego YC, etc."
Sweeney is a veteran of two previous Bay Area cup campaigns, sailing for Dawn Riley's America True in 2000 and Larry Ellison's Oracle in 2003. He is characteristically tight lipped about fund raising and is not naming his sponsors yet. He says only that they are in final negotiations and will re-name the Sausalito Challenge when the sponsors are announced.
"BMW Oracle has said their budget is about 200 million and Alinghi's (the Swiss 2007 Cup defender and winner of the Cup in 2003) is about the same," Sweeney said. "Luna Rossa's is about 150 million, and Team New Zealand's is about 70 million."
According to Sweeney, the Sausalito Challenge is the seventh official challenge for the 2007 Cup, joining San Francisco's BMW Oracle Racing, France's K-Challenge, Emirates Team New Zealand, South Africa's Team Shosholoza and two teams from Italy, Luna Rossa and +39.
"A year ago about twenty teams were at meetings and said they would be filing a challenge," Sweeney said. "There has been a good attrition rate. Some big teams, like Dennis Connor and One World of Seattle, have dropped out. We have paced ourselves by slowly gathering momentum."
Sweeney feels that the sailing team and the boat are on track for the Acts Series, which are races to be held in 2005 and 2006 as a build-up to the actual 2007 America's Cup. According to Sweeney, the sailing team has been assembled and will be announced in January. "They are all USA guys and have all done America's Cups," says Sweeney, who plans to buy a boat to take to the Acts in Europe next year before building one starting January 2006.
The Sausalito Yacht Club was founded in 1942 and has more than 500 members. "This is fantastic," Sausalito Vice Commodore Tim Prouty said. "We are only the second American yacht club to file a challenge, both of us from San Francisco Bay. We just doubled our chances to bring the Cup back to the Bay, and with two teams here, they should hold the Acts here in 2006. And you don't have to be a sailor to enjoy this because of the pageantry. What great fun."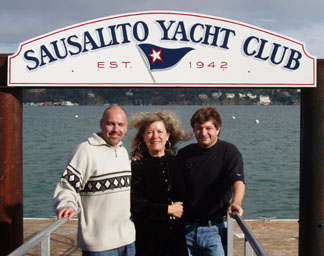 John Sweeney, Challenge co-founder, Marge Bottari, commodore of the Sausalito Yacht Club and Nic Clarke, Challenge Partner
Photo Tim Prouty
What do we at Latitude think of all this? We think it's wonderful, of course - but we're going to withhold some enthusiasm until we know where the $50 to $100 million is going to come from.