Photos of the Day
December 10 - Vanuatu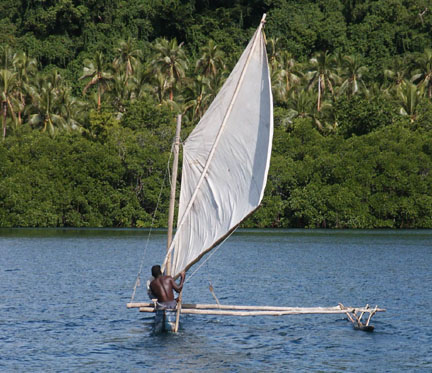 A man came out in a dugout canoe like this and told Jeff he could easily have him killed by a bolt of lightning.
Today's Photos of the Day come from Jeff and Debbie Hartjoy of the Longbranch, Washington-based Baba 40 Sailors Run. After having a great time in the '99 Ha-Ha, the couple have sailed 25,000 miles in the Pacific, but still have another 10 years to go on their planned 15-year circumnavigation. Most recently they visited the Republic of Vanuatu, which is 500 miles to the east of Fiji - and is considered to have some of the most primitive tribes in the South Pacific.
While anchored off Malekula Island, a man came out to Sailors Run in a dugout canoe to inform the Hartjoys that all he needed to have them killed by a bolt of lightning was a strand of hair from each of their heads. You can read the details of the interesting process in the January Latitude.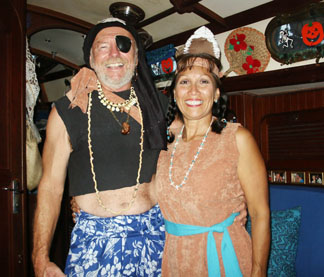 Jeff and Debbie - they haven't been struck yet.
Later, the couple visited the Rom Festival at Ambrym Island, a center of black magic and sorcery in Vanuatu. It's here that they came across tribesmen dancing to celebrate the promotions of some future chiefs. The first day the dancers wore nothing but a leaf around their penis. The second day they were completely outfitted in banana leaves and looked a lot like something out of a hip-hop video.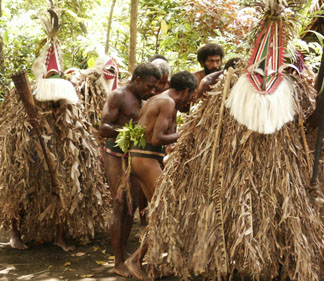 Costumes for the Rom Festival are organic.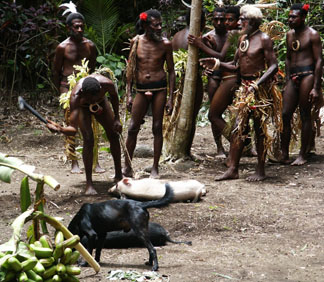 You don't want to be a pig or a boar during the Rom Festival. They don't get struck by lightning, but rather by killing clubs in the hands of locals. Some boars took 10 heavy blows to the head before going down . . . they hopped back on their feet to stagger around for another half hour.
Photos Courtesy Sailors Run
Jeff and Debbie report that they are "living and loving the cruising dream!"