Feasting for Charity in Mazatlan
December 3 - Mazatlan, Mexico
Sylvia Fox and Michael Fitzgerald are headed to Puerto Vallarta board Sabbatical. They checked in with this report from Mazatlan.
"Marina Mazatlan hosted its annual Thanksgiving feast for more than 100 cruisers as a benefit for the Ciudad de los Niños orphanage. After a great event that included traditional turkey, mashed potatoes and cranberries, dancing and fireworks, a delegation of cruisers from the marina delivered the pesos and food to the orphanage.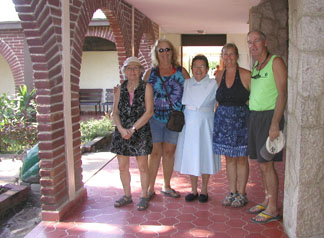 Cruisers pose with a very happy Sister, who heads the orphanage, after donating funds from the Thanksgiving fund-raiser.
Photo Courtesy Sabbatical
"The orphanage, run by several nuns, is unique in that it adopts the children for life. They currently have 52 children and an assortment of friendly dogs. We were taken on a tour of the facility which was immaculate and spacious, if sparsely furnished. During the tour we were told that the hot water heaters were no longer working and they were boiling water on the stoves to wash the dishes, clothes, etc.
"Cruisers could really relate to only having cold water.
"Within 24 hours, cruisers in the three Mazatlan marinas contributed nearly $500 (U.S.) to buy the hot water heaters and have committed to buying and installing them this week."