Viva Mexico!
December 3 - Mazatlan, Mexico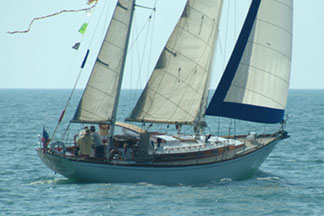 Alameda-based Cheoy Lee 47 Angel, with Christian and Eva as crew. This boat was originally owned by John, the man in the $1,000 bill, Williamson of the San Francisco YC. Under the name Pericus, Williamson raced her to Mexico - and sailed her back - more than a dozen times. Morris found the boat on a farm in the Central Valley and has been restoring her.
After an extremely busy fall, the Wanderer and Doña de Mallorca are in Banderas Bay aboard Profligate recharging their batteries. Since we skipped Mexico last year for the Caribbean, it's given us a chance to see Mexico with fresh
eyes. Our main impressions:
1. The average person in Mexico is about 10 times friendlier than the average person in the Caribbean. And they are just naturally friendly, they're not putting on an act.
2. When it comes to food, it's so much less expensive in Mexico. Out at Punta de Mita, you could get a lunch consisting of an entire fresh fish - albeit not the largest fish in the world - with beans, rice, and salad for $3 U.S. Prefer chicken? A lunch including a whole chicken was $6 U.S. And here in Paradise Marina, where Profligate spent last night, you can go to the mall and get a chile relleno or enchilada dinner for $5 U.S. And these aren't some cheese slathered Taco Bell junk, but the best-tasting crunchy, spicy rellenos we've ever had, and darn good enchiladas, too. Five of us - Paul and Karen Biery, and Frank of the Emeryville-based Catana 431 New Focus - went to dinner last night, and the tab for drinks and dinner was 435 pesos. The exchange rate is 11.5 to the dollar. In our beloved St. Barth, that same meal might have cost five times as much.


The waterfront building boom in Mexico, and particularly southern Baja and Banderas Bay, continues at an insane pace.
3. Waterfront real estate has gone absolutely nuts in Mexico. No matter if you're in southern Baja or Banderas Bay, million and multi-million dollar lots - not houses - are a dime a dozen, so to speak. Why anyone would want a waterfront house in Mexico, as opposed to a boat where you can enjoy the entire variety of Mexico is, of course, beyond us. When people do build houses on these lots, they tend to be huge. We're told that one cruiser decided to check out a multi-story hotel at the formerly remote anchorage of Muertos in southern Baja, when a woman told him to get out. "I'm just taking a tour of the hotel, the cruiser responded. "This isn't a hotel," replied the woman, "it's my house!"
4. Mexico has extremely salubrious weather. Listening to XM radio the other day, we heard it got down to the 30s in the Bay Area and 40s in L.A. Down here in Banderas Bay, the water temperature is 80 degrees, while the air temperature is in the high 80s to low 90s. At night, sometimes even just a sheet is too much. As for the winds, they've been typically light, usually in single digits in Banderas Bay. Come January through April, 12 to 18 knots is more common. The only reefs down here are made of rocks. The only bad part of the weather has been the surf - there hasn't really been any for the last week.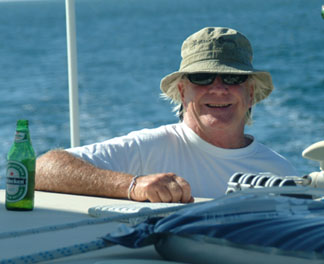 Peter of Pt. Dume, our new surfing buddy. When we pulled into Punta de Mita the other day, Peter and his crew Lewis came by to say, "Hey, we spent last New Year's anchored next to you in St. Barth!" Indeed they did. A few months before, Peter had bought this beautiful Italian-built Doug Peterson 75 in Genoa, Italy, named her Zulu, and sailed her across the Atlantic. Also the owner of a Southern California-based Hinckley 51, Peter came aboard Profligate and caught a case of cat fever.
5. Cat fever seems to be everywhere. It seems a day doesn't pass when we don't give a tour of Profligate to someone eager to buy a catamaran. And people are buying, too. Lupe Dippe, doyen of sailors in Banderas Bay, and who did a Banderas Bay Regatta with us on Profligate, and her husband JR have apparently concluded the purchase of a nearly new Aikane 57 catamaran built in Trinidad. If this dock talk is true, we think the couple snagged one of the better cats available.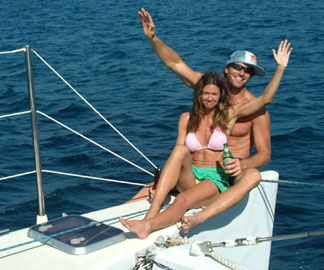 What kind of stunt are you trying to pull? Sitting on the bow of Profligate during a Banderas Bay sail are Joey and Sonja of the Oceanside-based Ranger 37 Johnny Rook. Joey has made a career of doing stunts - barrel rolls, back flips, etc. - with jet skis. Sonja, his sweetheart, does stunts in the movies. One of her latest gigs was doing stunts for the female lead in Pirates of the Caribbean. "It's true, Johnny Depp really is a nice person."
6. We had a nice chat with Don and Marie Irvin of the Gig Harbor, Washington-based Hallberg-Rassy 46 Freezing Rain. In order to give their crews a good view of Mexico, they've done a quick circuit from Cabo to La Paz, to Mazatlan, to Nuevo Vallarta's Paradise Marina. "Time for us to slow down!" They reported great fishing in Cabo. "A friend took us out on his powerboat. First we caught about 15 mahi, which we later distributed among the cruising fleet. After getting our fill of mahi, the skipper asked if anyone wanted a wahoo. One person said yes, and it took all of 15 minutes to catch one of those. Then the skipper asked if anyone wanted to catch a marlin. That didn't take much longer." The Irvins loved the islands off La Paz. "We dove with the sea lions at Los Islotes. One cruiser reached out and petted a passing sea lion, which instantly turned and clamped down on his forearm. Not enough to puncture the skin, but pretty hard." As for Mazatlan, the Irvins said, "We could have stayed a month!"
Banderas Bay continues to be alive with sea life. The first of the whales have arrived, and in our last two sailing outings, we were delighted to see very large turtles just cruising around. As for fish, the bay seems to be boiling with them. Big schools of fish are everywhere. Now if only something could be done about restoring the Sea of Cortez.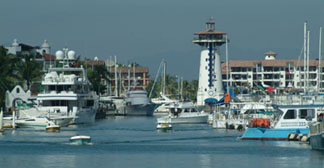 Marina Vallarta. It doesn't look like there's room for even another panga let alone another sailboat.
We're feeling sorry for Paradise Marina Harbormaster Dick Markie. It's early December and he's about 100 slips short of what he needs to meet the demand. In fact, in the hour that it's taken us to write this, no fewer than four new boats have pulled in for slips. Including Sabbatical, carrying Cherie Sogsti, Jean Leighner, and Dustin Fox - all Mexico and Ha-Ha vets. We're told berth availability is no better at Marina Vallarta, where requests for berths are met with, "Stop by and we'll see if we can find something."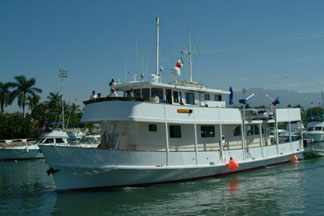 It's a small world when it comes to boats. This is the Laura, which is familiar to all who anchor at Catalina's White's Landing during the summer. As we understand it, she's owned by an extended family which takes turns visiting and using all the water toys - of which she has plenty. We're told she spends eight months a year in Mexico, and four in the States.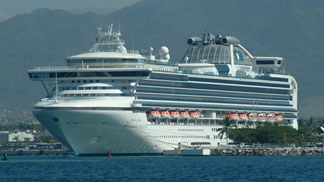 We've saved a funny one for last. What do you think the naval architects or stylists were thinking when they put the fake jet engines atop this cruise ship?
Photos Latitude/Richard