Week One in the ARC
December 1 - Atlantic Ocean
Sunday marked the end of their first week at sea, and the participants in the Atlantic Rally Crossing, en route from Gran Canaria to St. Lucia in the Caribbean, were enjoying light winds and bountiful catches.
"Across the fleet yachts are celebrating their first week at sea with a virtual mid-Atlantic dinner party ­ everyone is invited!" reports the event Web site, www.worldcruising.com/arc. "Om Shanti are joining tonight by holding a Black Tie meal by candlelight. Duty cooks Mike and Ted have been busy in the galley and come up with a menu worthy of Jamie Oliver: Foie Gras Crostini; Trou Normand; Conchiglie Rigate au Thon et Parmesan au sauce Provençale; Poire Belle Helene; Petits Fours; Café ­ magnificent!"
On the same day, another Challenge Business event, the Global Challenge, started the second leg of its around the world race from Buenos Aires, Argentina, west to Wellington, New Zealand. The fleet is now approaching Cape Horn.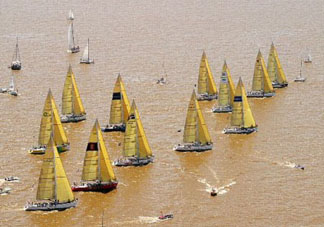 The Global Challenge fleet departed Buenos Aires on Sunday.
Photo Courtesy Global Challenge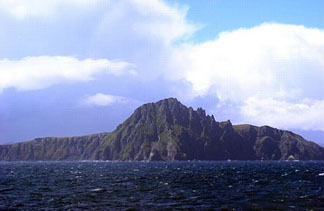 View of Cape Horn from the South
Photo Courtesy Global Challenge/http://en.wikipedia.org
"We were all awe-struck not by its physical presence, but by the fact that we had made it. Here we were at the most feared and respected icon in maritime history. Here was a place where sailors had drowned in their dozens, trying to claw around the bottom of the world." wrote Will Carnegie, skipper of Veritas in the BT Global Challenge 2001/02.
To follow the Global Challenge, go to www.globalchallenge2004.com/en/default.asp