What I Learned on the Ha-Ha
November 17 - Baja California
For many boatowners and crew, the Baja Ha-Ha is their first long offshore journey. Folks who will be following in your wake next year are curious to know what you learned from the experience. As such, it would be greatly appreciated if you, no matter if you were owner or crew, could take a few minutes to respond to one or more of the following questions. We're not looking for treatises, just quick impressions.
Did you have major gear and/or engine problems?
What was your favorite bit of marine gear?
What bit of marine gear did you really wish you had?
If you took or were unknown crew, how did it work out and how might you do things differently in the future?
If you cruised with children, was it harder than you expected?
Send your responses to these questions - or other impressions - to Richard. Remember, please keep them relatively short.
If you're already forgotten what the Ha-Ha was like, here are a couple of photos from the start of the second leg to remind you: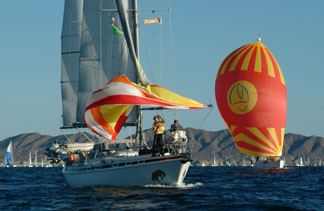 Nels Torberson of the Alameda-based Morgan Out-Island 41 Bronco sets his chute with Brendan Busch's SC 52 Isis charging down on him, and about 120 boats with white sails about to set.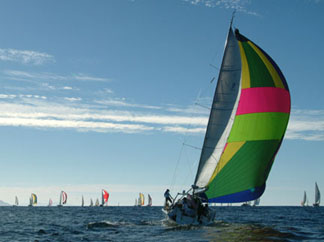 John and Nancy Moore's Alameda-based Break'n Wind is a late starter with a colorful chute, but quickly overtook many of the slower boats on the sunny horizon.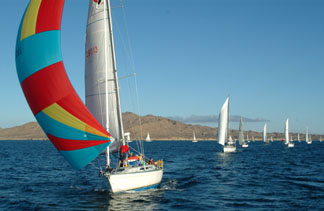 Leif Vasstrom's San Francisco-based Beneteau 51 Solar Planet, revels under a gennaker in the warm and dry Baja desert conditions.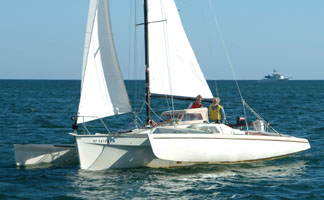 Dave Martin and crew on the Sacramento-based F-27 tri Flying Circus - who would sail the entire course - pull into Bahia Santa Maria.
Photos Latitude/Richard & Andy