Photos of the Day
November 15 - Cabo San Lucas, BCS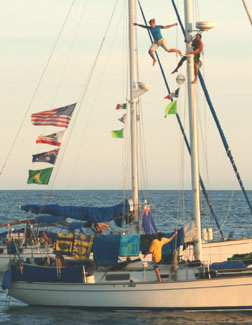 "The dumbest thing I've ever done in my life," is the photo caption Janet Zander suggests for our two Photos of the Day. Janet, a United Airlines flight attendant, was fooling around on one of the Baja Ha-Ha boats in Cabo San Lucas Bay after the Ha-Ha, when she was goaded into going up to the spreaders of a Morgan 38 and jumping into the water.
Such thrill-seeking isn't the best idea, particularly for folks without that kind of expertise. After all, wet feet can be very slippery on top of spreaders, which normally don't have non-skid. In addition, if the boat were to lurch the wrong way at the moment of jumping, the person could land on the deck, which would very likely kill them.
Zander escaped both of these fates, but in her eagerness to get as far away from the boat as possible, she ended up striking the water laid out on her side. Both her legs sported massive bruises a few days later, but fortunately she wasn't too badly hurt.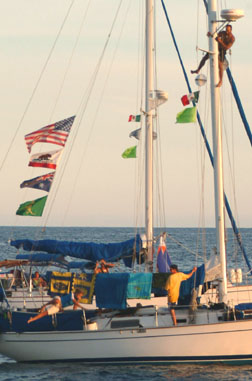 Photos Latitude/Richard
The same can't be said for a couple of Aussie guys one Christmas Eve in Antigua a couple of years ago. Having had some drinks, they snuck aboard a large yacht, climbed to the very top of the tall mast, and simultaneously jumped to the water. As memory serves us, the force of impact drove their knees into their chins, crushing their skulls. It was a mighty sad holiday season on that island.
We don't want to sound like old fuddy-duddies, but please folks, be careful out there.