Hendrix Now Restricted to Sailing on Rivers
November 10 - Turtle Bay, Baja California
"I'd like everyone who did the recently completed Baja Ha-Ha from San Diego to Cabo San Lucas - especially the crew of Wild Rose, the boat I was on - to know that I'm all right after my medical problems," writes Phil Hendrix of Stockton. "As some might already know, after being dehydrated, vomiting blood, and being in severe pain for over 24 hours, I had to be transferred on the open ocean near Punta Eugenia from Wild Rose to Megabyte, another Ha-Ha boat, to be rushed to the clinic in Turtle Bay. The next day I was flown to Tijuana and taken to a hospital in San Diego.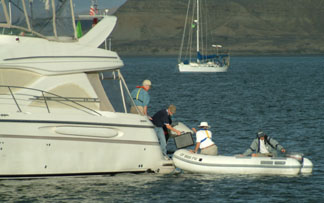 Doctors and other helpers boarding Megabyte in Turtle Bay for rescue run.
"I can't adequately express my thanks to the skipper of Megabyte, who volunteered to rush north to get me; to the doctors off Jellybean, who joined the rescue boat before they'd even had a chance to set their anchor in Turtle Bay; and for the others on the rescue boat, such as Roberto and particularly Sue, who helped me through the most painful time. I also hope that the Grand Poobah and everyone the Ha-Ha mothership Profligate, which made all the arrangements for the rescue and provided some of the crew, know they are the best!
"In addition, I'd like to thank Dr. Jesus Moreno and his nurse Elna at the small clinic in Turtle Bay, who were so kind and adept at stopping my internal bleeding.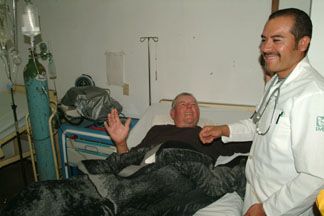 Patient and Dr. Jesus Moreno at the Turtle Bay Clinic
Photos Latitude/Richard & Andy
"I also want to thank the Assistant Poobah, Banjo Andy Turpin, also of Profligate, for organizing my Medivac to Tijuana and getting me across the border. Not only did Andy handle all the very complicated arrangements, but he treated me as though I were a member of his family. I am deeply appreciative.
"My doctors have told me that from now on I am a river sailor, and ocean passages are a thing of the past for me."
We'll have more on the this incident, and the lessons to be learned from it, in the December issue of Latitude 38. We're also happy to report that the Ha-Ha fleet contributed over $1,200 to the Turtle Bay Clinic after the incident.