Seaweed Soup Saturday
November 10 - San Francisco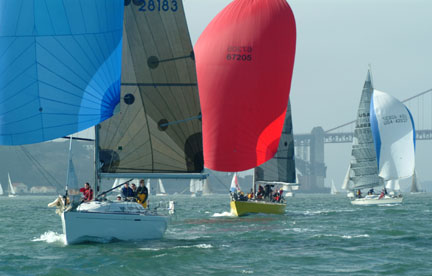 The Golden Gate YC ushered in the new midwinter racing season last Saturday, hosting 68 boats to a splendid day of sailing. A moderate westerly filled in for the early (11 a.m.) start, the sun came out, and the decks never really got wet as the fleet did a few laps up and down the Cityfront.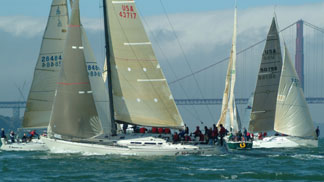 Six boats were over early in the Division One start.
Taking class honors in the toughest class, the 19-boat Division One group, was Erich Bauer's Mumm 30 Sand Dollar. A trio of J/120s - Grace Dances, Mr. Magoo and Chance - and the Schumacher 40 Q rounded out the top five. The sleek new DK-46 Zephyra would have landed on the podium, but were OCSed.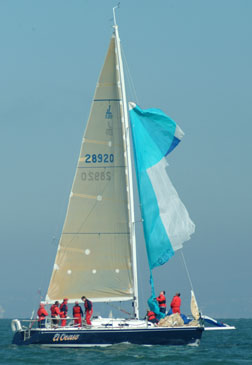 The J/120 El Ocaso tore two spinnakers despite the moderate conditions.
Bay Area icon Hank Easom, sailing his 8-Meter Yucca, beat up Division Two and posted the best corrected time among the three 'varsity' divisions on the 9.6-mile course. Easom was on fire, hitting every shift and layline perfectly, and sailing around unhindered, for the most part, by other boats. Improbably, Easom even picked his way through seven of the bigger boats that started five minutes before Yucca - and only three boats (Zephyra, the SC 52 Kokopelli II, and the Sydney 38 Absolute 02) posted faster elapsed times! "We just got our conditions," claimed Hank modestly.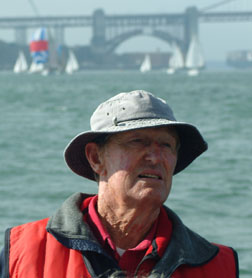 At 70, Hank Easom is still improving with age.
Other class winners were Irrational Again (J/105), the Hawkfarm Eyrie (Div. III), Ka-Nina (Catalina 34), Benino (Knarr), and Windansea (Folkboat). See www.ggyc.org for full results.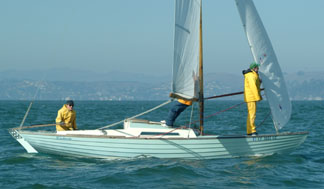 Folkboat winner Windansea likes to sail bow down.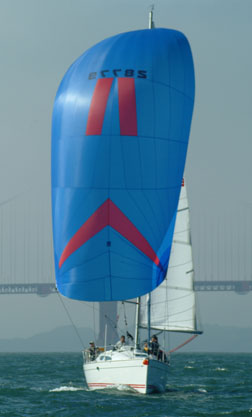 The Jeanneau Sun Fast 35 Mon Desir's spinny appears to sport an unhappy face...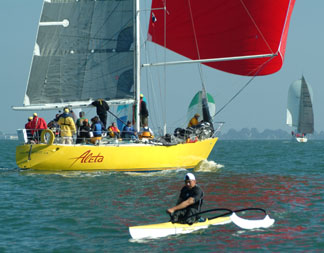 ...but it was a great day to be on the water.
Photos Latitude/Rob