Vendée Globe Underway
November 8 - Les Sables d'Olonne, France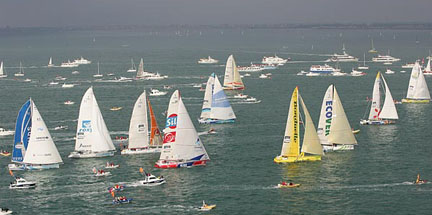 Photo Gilles Martin-Raget
The 20 competitors in the fifth Vendee Globe Race departed Les Sables d'Olonne, France, yesterday. The next time this enthusiastic small seaport will see them is sometime in February, when they have completed their 24,000-mile solo, nonstop circumnavigations.
Despite overcast skies and almost non-existent light breeze, the mood was jubilant in Les Sables, as it has been for the last several weeks. An estimated 15,000 people in 1,000 boats, 20 press launches and 13 helicopters came out to watch the noon start, with an additional 300,000 reportedly watching the 6-mile close-to-shore first 'leg'. Vincent Riou aboard PRB, was the first across the line, followed by - we know that guy! Alameda's Bruce Schwab, the race's only American, aboard Ocean Planet. As of this morning, PRB was leading and Schwab had dropped back to mid-pack.
The favorite for the 2004-2005 Vendée and currently in third place is British ironman Mike Golding aboard the well-funded, well-prepared Ecover, although there are several skippers who could give him a run for the money, including Roland Jourdain and two-time Vendée veteran Marc Thiercelin.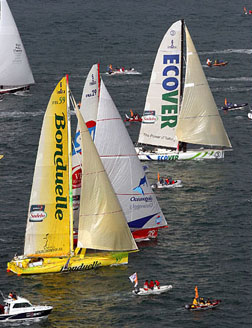 Photo Jacques Vapillon/PixSail.com
Schwab won't be running with those big dogs. In an interview with the New York Times the day before departure, Bruce once again stressed that his hardscrabble effort (he was selling Ocean Planet T-shirts and CDs of his guitar playing on the docks just to make a few more bucks before the start) is not there to win. "I hope we do fairly well and finish, and maybe that will pave the way for Americans in the future," he said. If he does finish, he will be the first American to do so. The only other American to have entered the Vendée was Mike Plant, who started the first race in 1989, but failed to finish.
Check 'Lectronic Latitude for regular updates on the race, or the official Web site at www.vendeeglobe.fr/uk.