Vendée Globe Gates Announced
November 3 - Les Sables d'Olonne, France
With four days left before the start of the fifth edition of the Vendée Globe Race (solo, nonstop around the world), the race committee announced that the course will once again feature gates in the Southern Ocean. These are waypoints put in place to keep the racers from going too far south. (This common tactic of past races has the benefit of cutting down the total mileage, but increases the risk of hitting ice, which is more prevalent the farther you go south. It also puts rescuers at risk if skippers get in trouble 1,000 or more miles from land, as has happened in past Vendées.) There will be five gates this time, located off South Africa and Australia. All are GPS waypoints except Heard Island, and all must be left to starboard (south). Announced at the same time was the total theoretical distance of the 2004-2005 Vendée Globe: 23,700 nautical miles (43,892 km).
Twenty skippers and boats - including Alameda's Bruce Schwab, the only American - are entered in the race, which starts off Les Sables d'Olonne, France, this coming Monday, November 7. See www.vendeeglobe.fr/uk/ for more.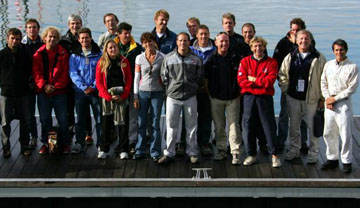 The unusual subjects - Vendée Globe skippers gather for a group shot. Alameda's Bruce Schwab is at far right.