Photos of the Day
October 27 - Mystic, CT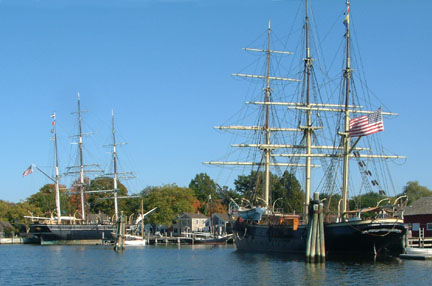 The whaler Charles W. Morgan (left) and the training ship Joseph Conrad
There are literally hundreds of maritime museums scattered around this country, including our own highly-respected San Francisco Maritime National Museum. But one museum - the Mystic Seaport in Mystic, Connecticut - towers above them all. Founded in 1929, the 37-acre Seaport is our country's largest and best maritime museum, annually attracting more than a million visitors and boasting approximately 25,000 members (representing 50 states and 30 countries) and over 700 volunteers.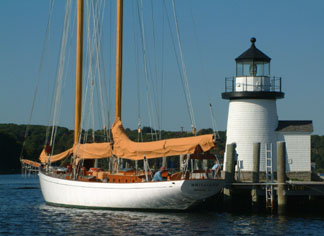 The schooner Brilliant, which still races
The Seaport owns and displays the largest collection of boats in the world, including the Charles W. Morgan, the only surviving whaling ship; the training ship Joseph Conrad; and the fishing schooner L.A. Dutton. There are also more than 60 preserved buildings on the site, including a chandlery, sail loft, blacksmith, cooperage, ropewalk, tavern, and more. The museum is justifiably famous for its huge collection of maritime art and photography, a nationally renowned research library, a preservation shipyard (which built the tall ship Amistad several years back), educational programs in conjunction with Williams College, and much more.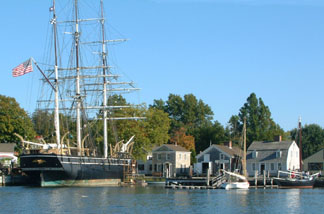 A closer shot of the Charles W. Morgan. The building on the right with the two dormers is a cooperage.
It's a great place to spend a day wandering around, or even a few days if time allows. Racing Editor Rob Moore, who grew up in Mystic, was back there earlier in the month and took a few pictures during his annual stroll around the Seaport. "It's a tremendous resource," he reports. "Anyone interested in maritime history absolutely should check it out someday."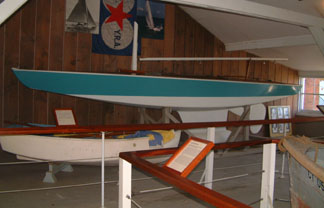 One of the earliest Stars is on display in the small boat shed.
Photos Latitude/Rob
See www.mysticseaport.org for more.