November Preview
October 29 - Europe
Across the pond, three major events get underway next month. We'll have more on all of these in both 'Lectronic Latitude and the December issue of Latitude 38. (The November issue, incidentally, hits the streets today.) Here's a quick preview of each in the order they will occur.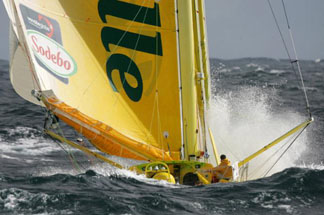 Jean Le Cam's Bonduelle practices in the Bay of Biscay. Imagine doing this alone on a 60-ft boat 24/7 for weeks on end.
On November 7, the Vendée Globe Race starts from Les Sables d'Olonne on the south coast of France. Twenty high-tech 60-ft boats and their intrepid skippers will battle the elements, each other, and their own exhaustion to complete the world's premier, nonstop singlehanded race around the globe. Among them is the only American, Alameda's Bruce Schwab sailing the Wylie-designed Open 60 Ocean Planet. With nine days to go until the start, high winds and huge seas in the Bay of Biscay kept the fleet in port for the third straight day. That was just fine with the huge crowds which visit daily. This may be the biggest event in Les Sables of the year and they do it up right, complete with a Ferris wheel and Disneyland-like atmosphere. Quite a contrast to the solitary existence these 18 men and two women will feel for the next three months. See www.vendeeglobe.fr/uk/ for more.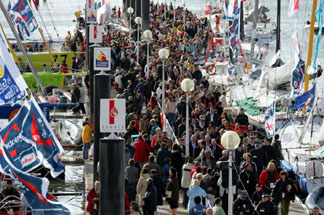 Huge crowds have been visiting the Vendée Village, and yachts, in Les Sables D'Olonne.
Photos Courtesy Vendée Globe
Ellen MacArthur is on schedule to do what no woman has ever attempted and only one man has accomplished - sail a 75-ft multihull around the world nonstop in record time. Unlike Francis Joyon, who amazed the world by accomplishing
this feat only a year ago aboard an old boat, Ellen has big-time backing and a thoroughly prepared trimaran, both courtesy retailer B&Q. The reigning queen of British sailing plans to go on standby in Falmouth around mid-November, and then wait for her weather routers to give her the green light. She'll start off Ushant, using the same line as the Jules Verne course (although this would not be a counting Jules Verne attempt). The current record, set by Joyon, is 72 days, 22 hours, 54 minutes. See www.teamellen.com.
As mentioned in the last 'Lectronic, some 205 boats are signed up to do the Atlantic Rally for Cruisers, which departs the Canary Islands on November 21 and ends in St. Lucia in mid-December. So far, 24 nations are represented in the 2,700-mile event, with the majority being Brits (43%), followed by Germans (14%). The U.S., Netherlands, Norway, Italy and France are also making good showings. The average size of an ARC yacht these days is 47 feet. See www.worldcruising.com/arc/english.htm.