Photos of the Day
October 22 - Hamilton Harbour, Bermuda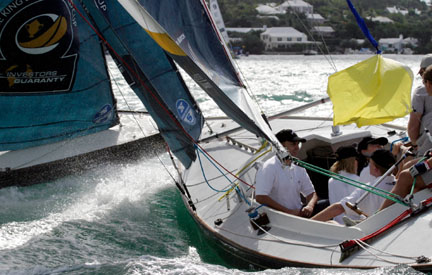 Barry Pickthall reports from the Investors Guaranty King Edward VII Gold Cup Pro-Am Regatta in Bermuda:
Take your eye off the ball for just a second, and catastrophe can follow in very short order. It can happen to the best of us, as two America's Cup skippers found to their cost out in Hamilton Harbour, Bermuda, yesterday.
Three-time America's Cup champion Russell Coutts was competing in a Pro-Am regatta with British PGA golfer Nick Faldo, Sir John Vereker, the Governor of Bermuda, and Doug King, the CEO of primary sponsor Investors Guaranty all aboard. One moment they are sailing along quite happily getting to know each other and which ropes to pull when - Bang! - the bows of rival America's Cup skipper James Spithill's boat come crashing over the deck.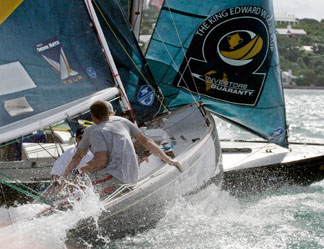 It was a classic T-bone collision that surprised Spithill's crew as much as it did Coutts, for neither were keeping a look-out. Luckily, no one was injured, and Russell Coutts celebrity crew now have the pictures to remind them of what sailing is all about.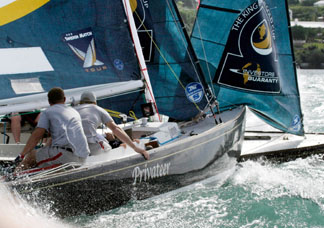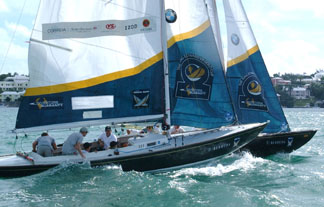 For his part, Nick Faldo who was at the helm at the time, is returning the compliment by inviting Russell Coutts for a round of golf. Who will be driving the cart? "Certainly not me," said Faldo. "I'm a danger in anything doing more than seven knots!"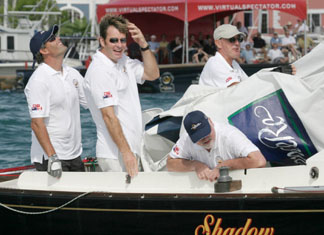 Photos Copyright Reserved Bob Grieser/Swedish Match Tour/PPL Photo Agency