More on the Fines for Boats without Temporary Import Permits
October 20 - Mazatlan, Mexico
Here's the latest from Mazatlan on a few boatowners being severely fined for not having Temporary Import Permits for their boats. The report is from Derek Holden of the Privateer 35 Albatross III, one of the boats facing such a fine.
"The quick story is that back in 2000 the port captain said that I only needed an Import Permit if I wanted to bring replacement parts for my boat into Mexico duty-free. After I'd bought Albatross, I went to the marina office to check, and was told she had all the correct papers for entering Mexico. Also in 2000, the marina office wrote a letter to the port captain stating that I could not get a copy of the permit. I was also told I didn't need one. So I fixed up the boat and sailed her to Mazatlan. I have the boat at the Isla Marina in Mazatlan, where I was never asked for a permit, and was always told I didn't need one unless I wanted to bring boat parts into Mexico. By then I was also worried about the amount of time that had passed from when I guessed I should have gotten a permit. The bottom line is that I've initially been fined $42,000 U.S. because of the number of laws I supposedly broke and because they value my boat at $60,000. How they came up with this value is unclear because I showed them the bill of sale proving that I'd only paid $2,500 for the semi-abandoned boat. Before I bought her, the boat was temporarily impounded by Aduana.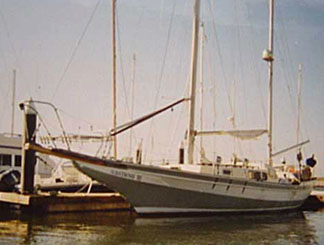 Albatross III
"I've seen three lawyers," Holden continues, "and they all say the problem can't be fixed because of a manager at the marina - who had promised me that if I wired him $600 U.S., the problem would go away. Four months later I was faxed an 18-page document that stated my fines. Now I owe $60,000 U.S., as they add their own interest. In addition, the boat has been confiscated. I went to see the people at the Tax Department, and they explained to me that the case was closed and nothing can be done. For them to take boats away and charge interest of 7% a month for not having a free piece of paperwork seems crazy. The Ericson 35 Beyond Therapy and the Catalina 38 Grapeshot are in the same situation."
We don't know how anyone could have gone for so long without knowing that such permits were eventually required, but we're really sorry what's happening to your boats, because the penalty seems way out of line to us. We hope some solution pops up.