Vallejo 1-2 Dry and Wet
October 18 - North Bay/San Pablo Bay
Fifty-three solo skippers enjoyed mostly overcast but dry skies for the downwind first half of the Vallejo 1-2 Race on Saturday, October 16. For the doublehanded beat home on Sunday, competitors might have stayed drier if they'd swum back to Richmond. As if the forecast rains didn't keep things wet enough, brisk southerly winds were right on the nose, kicking up a nasty chop as the fleet pounded home. However, judging from the huge grins we saw on almost every boat, a little rain didn't dampen any spirits.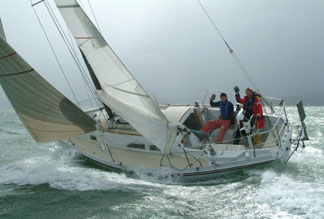 Like most competitors, Dan Alvarez and his crew on Miss Laney were all smiles as they passed by our photo boat.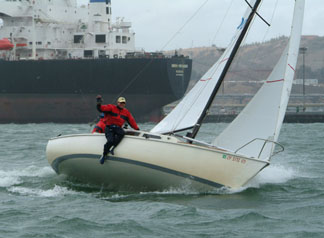 Hanging out on Pat Broderick's Santana 22 Elaine on the way to a division win.
Preliminary combined results posted Sunday night show the following winners:
Class I (Multihulls) - Mindbender, F-25c, Christopher Sundberg
Class II - Auspice, Schumacher 40, Jim Coggan
Class III - Chesapeake, Merit 25, Jim Fair
Class IV - Elaine, Santana 22, Pat Broderick
Class V (non-spinnaker) - Tan Tsin, Pacific 30, Steve Hocking
Sportboat - Hurricane, Moore 24, Al Germain
WylieCat 30 - Uno, Bren Meyer
(Sorry, but we did not yet have crew names when this was written.)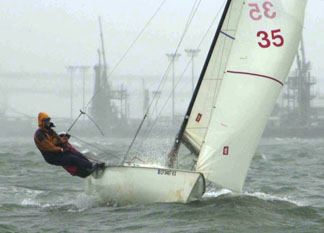 Shortly after the Wabbit Bad Hare Day appeared out of the gloom, the rain momentarily let up to reveal a rainbow over the Chevron oil docks behind them.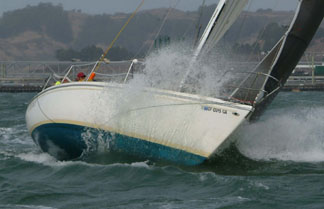 George Biery's Eurydice makes a splash.
Look for a feature article on the Vallejo 1-2 in the November issue of Latitude 38.