The Baja Ha-Ha Diet
October 1 - San Diego
"It's just over three weeks to the start of the 11th Baja Ha-Ha," advises Ha-Ha Honcho Lauren Spindler, "so I want to encourage everyone to make an effort to be in the best shape possible so they can enjoy the event to the fullest. While it's not too hard to sail the Bay when you're out of shape, it's different when you're doing the Ha-Ha because there is overnight sailing, launching and retrieving dinghies, keeping one's balance in rolling waves, punching through shore break, volleyball games, dancing, hiking, body-surfing, hill climbing, and other rigorous activities. You got to be in decent shape to enjoy these activities to the fullest.
"In fact," Ms. Spindler continues, "I had to pull the Grand Poobah aside and insist that he not be quite so grand for the start of the Ha-Ha. To that end, I've got him swimming a mile each morning and doing an hour on the treadmill each night. Of course, exercise is only half the equation. I also put him on the Ha-Ha Diet: Breakfast consists of 10 almonds, a small bowl of oatmeal, and an apple for later in the morning. Lunch, which is to be eaten in the middle of the afternoon, consists of a broth rather than cream-based soup and a salad. For dinner, the Poobah gets collard greens and some other vegetable to go with his modest portion of sashimi or curried chicken. Variety? There is no variety on the Ha-Ha diet until the Poobah drops 20 pounds. But I'm proud to say that he's lost 10 of those 20 pounds in the first week, and says he feels better than he has in years. Even though he's eating one-third of the calories he used to, he even says he's enjoying the food more.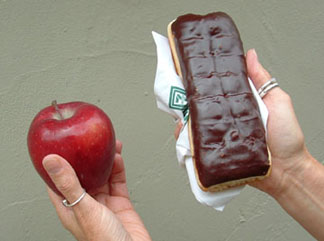 To have a better Ha-Ha, reach for the apple, not the pastry.
Photo Latitude/Richard
"It goes without saying that nobody should start a rigorous exercise program without consulting their doctor - but it also goes without saying that the better shape you're in, the better you'll enjoy the Ha-Ha. So come the kick-off party on October 24 in San Diego, I'm looking forward to seeing less of all of you!
"Speaking of the Ha-Ha, the greatest number of sisterships entered are Islander 36s, with five, followed by Kelly-Peterson 44s with four and Cal 2-46s also with four. There are also three Hallberg-Rassy 46s."