Tough Love in the Kahn Clan
September 22 - Toronto, Ontario
The only race Thursday in the Bell Mumm 30 World Championship almost didn't happen, and Philippe Kahn almost wished it hadn't. But there it was: his own son fouled him, he protested and the standings went inside out going into the fourth and final day Friday. The new leader, replacing 15-year-old Samuel (Shark) Kahn, is Fred Sherratt, representing the host Royal Canadian Yacht Club, who finished third.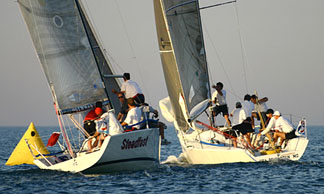 New regatta leader Fred Sherratt of Toronto stalks David Pyles of Maryland at the offset mark.
The younger Kahn, who led by six points after the first two days, flamed out after the incident at the first windward mark when he and his father, sailing Pegasus 20 and Pegasus 591, were fighting for the lead. After doing a 720 - a double penalty turn - he rejoined the parade in seventh, briefly appeared to be making a comeback but went all the wrong ways as the wind died on the last downwind drift and straggled in 18th, beating only two boats.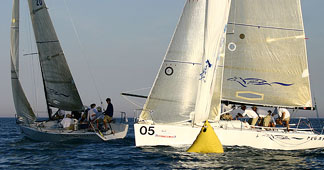 Shark Kahn (left) starts his 720 after protest by his father Philippe (right).
Photos Rich Roberts
Principal race officer Mike Milner hoped to sail four races Friday to complete the 11-race schedule. The event rules say no racing can start after 5 o'clock, so Milner moved the day's starting time up an hour to 10:30 a.m.
Ironically, Thursday's race didn't start until 5:34 p.m. after four general recalls following a day of card-playing and lawn bowling before Milner, two miles out on Lake Ontario, decided there was finally enough wind to race - not more than 6 or 7 knots but just enough to race twice around a one-mile windward-leeward course.
Sherratt, sailing Steadfast, has 36 points. Tom Ritter's Tramp from Bloomfield Hills, MI, slipped into second place (44), followed by Shark (45) and Philippe Kahn (47).
For more, see www.mumm30rcyc.com.