Etchells North Americans
September 22 - San Francisco Bay
After four of seven scheduled races, leaders are starting to emerge in the Richmond YC-hosted 2004 Etchells NAs. Currently, the leader in the 53-boat fleet is British sailor Nils Razmiloviz (27 points), followed closely by Marblehead sailmaker Judd Smith (30) and San Diego sailmaker Vince Brun (31). Rounding out the top 15 are Peter Vessella (the top local sailor with 44 points), Ante Razmiloviz (Nils' brother, 45 points), Jeff Pape (48), Andrew Whittome (50), Craig Healy (58), Buddy Cribb (58), Doug Jorgensen (65), Dirk Kneulman (65), Hans Fogh (67), Dennis Conner (68, largely due to an OCS in the second race), Ed Feo (73) and Tim Wells (76, also with an OCS in the second race).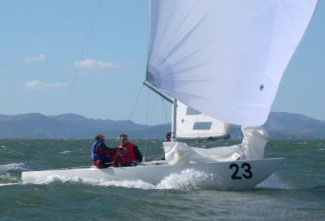 Dennis Conner sailing in Sunday's practice race
Photo Courtesy Richmond YC
Two more races are scheduled for today beginning at 11 a.m. deep in the Berkeley Circle near Brooks Island (to give the fleet a three-mile beat before converging on the weather mark). After the first race today, the throwout kicks in, which will reshuffle the leaders a bit. Moderate conditions are expected to continue, allowing the series to wrap up with one more race tomorrow. "Everything is going quite well," noted regatta PRO Eric Arens. "It bodes well for the Worlds here next year around Labor Day."
See www.sfetchells.org later this afternoon to see how, or if, the leaderboard has changed going into the finale.