Cruising the Southland
September 3 - Channel Islands
We've been cruising here in Southern California - Newport to Avalon, to Two Harbors, to the windward side of Santa Cruz Island, to the leeward side of Santa Cruz Island, to Santa Barbara - for a week now. Having done so, we've been able to confirm that in late August and September, Southern California is one of the best places in the world to be cruising. Better than the Sea of Cortez? Yes, it's too hot down there. Better than St. Tropez? Oh yes, it's too hot, crowded, and expensive in the South of France. Better than the East Coast? Have you heard of Charley and Frances? Better than the Bay of Islands in New Zealand? Come on, it's winter in the southern hemisphere.
One of the great things about Southern California cruising is the variety. Newport, Avalon, and Santa Barbara are urban, of course, with all the positives and negatives that entails. But it's mostly positive. Avalon is 'island urban'. Two Harbors is 'island country' from Thursday through Sunday afternoon, but quiet the rest of the week. Santa Cruz Island, even at the end of August when the air and water are the warmest of the year, is a mostly lonely place. It's a very large island with lots of anchorages.
The weather has been lovely down here. A little fog in the morning and some evenings, but the afternoons are all about brilliant sunshine. Some nights we've complained that it was too warm in our cabin! One night at Santa Cruz Island, heat of the island flowing down over our boat, it was like being in the desert. The addition of a full moon didn't hurt the atmosphere at all. Because of the times of day we traveled, we only got one sail in - but it was a beauty. We left Santa Cruz Island just before noon, had about 90 minutes of sailing at 10 and 11 knots in about 15 knots of wind on the beam in flat seas. The wind went very light for the last six or seven miles, but we put up the gennaker and were able to ghost along at three to four knots. It was a lovely sail, with blue sky, bluer water, and warm temperatures.
Our cruising pals for the entire trip were Dave and Hilary of the Morrelli & Melvin 70 cat Humu-Humu, which is summering at Paradise Marina in Nuevo Vallarta. It was especially good to have Hilary along, as she accompanied the overactive Doña de Mallorca on long jogs along ridges and over cliffs. Among the friends we met at Catalina island were John Folvig, senior and junior, plus their wives Marilyn and Jen. We celebrated with a big barbecue in the sand.
When we pulled into Santa Barbara, we bumped into old friend - name withheld until his ex-wife and his lady's boss can be informed - once again. He had news for us. "Since my lady and I saw you two weeks ago, we've decided that if we're going to do things in life, we'd better get on with it. So we're taking my boat - which I've owned for 30 years - in the Ha-Ha to start a winter of cruising in Mexico."
Then we bumped into Bear, our favorite FedEx pilot, who in addition to having just bought the Cheoy Lee 48 Hotel California, owns, sails, and loves a 30-year old P Cat beach cat, painted to resemble a cow, around the Santa Barbara Harbor. "You've got to meet Liz," he insisted. "She's a lovely 23-year-old blond surfer/sailor who is going to surf and sail around the world in her Cal 40."
Liz, a graduate in Environmental Studies from UCSB, turned out as advertised. The inspiration for her surfing/sailing trip, as well as her university major, was a season of cruising Mexico in '89-'90 with her family aboard the Gulfstar 50 Endless Summer. We took an immediate liking to Liz, because she loves surfing and sailing, because she has an adventurous spirit - and in no small part because she reminds us of our daughter who is close to the same age. We'll have more on her planned adventure in the October Latitude 38.
We're enjoying our second day in the harbor here at Santa Barbara, as the weather couldn't be more perfect. As much as we'd like to stay and mix with the natives, we plan to head back out to Santa Cruz Island tomorrow, then Catalina for the wild Labor Day Weekend festivities. Wish you were here! Since you're not, we hope you enjoy some of the following photos: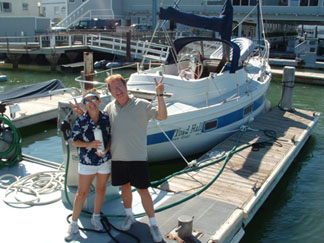 As we took on gas at Newport before heading to Catalina, we met the Baja Journal folks. This Coronado 35 replaces their Columbia 26 that burned in Mexico.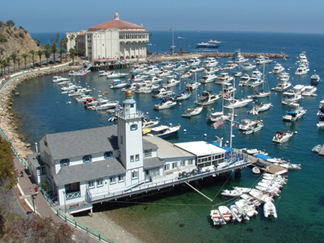 A view of the casino, which celebrates its 75th year, and of the Catalina YC, which celebrates its 80th year, in Avalon Harbor.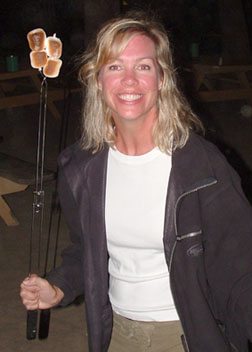 Jen Folvig, now of Rockford, IL, holds up marshmallows for making s'mores during our Two Harbors barbecue.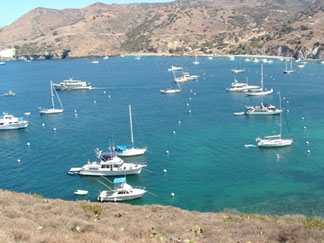 By 3 pm on Sunday, even in August, Two Harbors is almost vacated. The two nights before, it was jam-packed.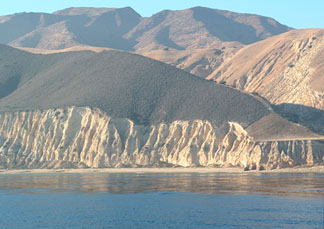 Santa Cruz Island, when approached from Catalina, is spectacular.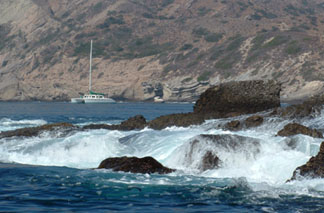 Profligate, on the hook on the back side of Santa Cruz Island. The surge looks big, but really wasn't.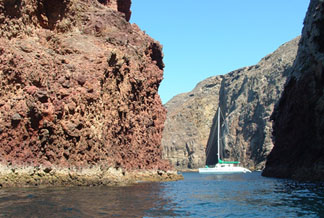 Profligate, tucked into one of the anchorages on the front of Santa Cruz Island.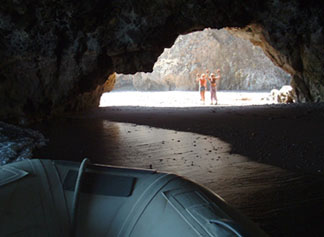 Hilary and Doña just outside one of the many caves on the front side of Santa Cruz Island.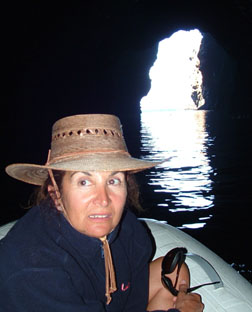 The look on Doña de Mallorca's face suggests she didn't care to go any deeper into the depths of Painted Caves.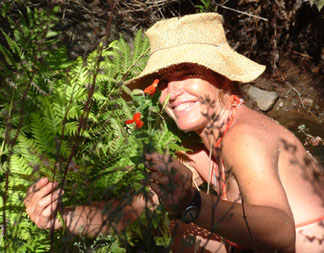 Hilarius kneelious, believed to be the last of the Chumash Indians on Santa Cruz Island, was surprised by a photo of her looking for Contentment Plus, a natural herb remedy.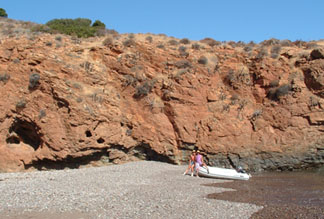 Hilary, Doña, and the dinghy, at one of the many little coves on Santa Cruz Island.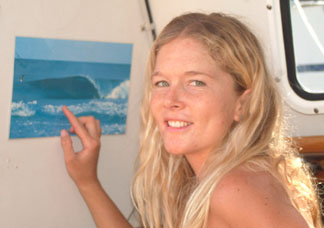 Liz Clark points to where she wants to go with Swell, her Cal 40.
Photos Latitude/Richard