Aussie 18s: It's No Game for Kids
September 1 - San Francisco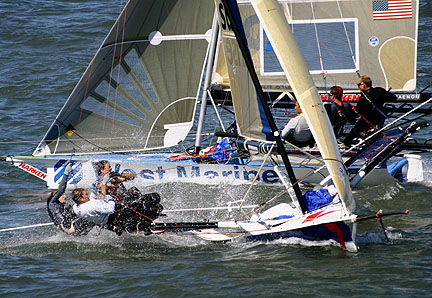 Patrick Whitmarsh's Sunrise team crosses Howie Hamlin's West Marine.
The third annual 18 Skiff International Regatta on San Francisco Bay continues through Friday. Rich Roberts reports: John Winning has been racing what may be the world's most temperamental sailboat for 29 years, or since before some of his rivals were born. He won the class's Giltinan classic - unofficially, the world title - in 2000 and, at 52, is still ranked second in the world.
The Australian veteran has learned that the little things count, as they did yesterday (Tuesday) when he and his crew of Euan McNicol and Jack Young sailed Computer Associates to a sweep of both races in front of the host St. Francis Yacht Club.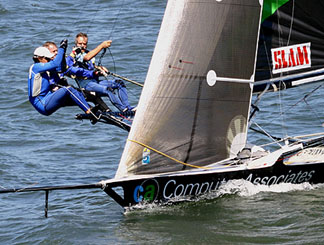 John Winning (right) with crew Euan McNicol and Jack Young won both races Tuesday.
That left them one point behind countryman Trevor Barnabas and six up on third-place Californian Howie Hamlin - who, incidentally, admit to 52 and 51 birthdays, respectively - with four of nine races sailed in the competition scheduled through Friday. Clearly, it's not a young man's class.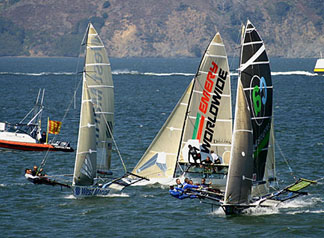 Howie Hamlin's West Marine (left) and John Winning's Computer Associates (right) lead the way out of the start as Dana Jones' Emery Worldwide tacks behind.
Everyone dealt with tricky tides and puffy wind of 15 knots blowing through the wind tunnel known as the Golden Gate, but Winning credited a small gear change for the way they breezed wire to wire in both three-lap races around a mile-long windward-leeward course. "We were short on [mast] raking yesterday [Monday]," he said, referring to his opening day pair of thirds. "We were set up for more wind."
The tides on his home waters of Sydney Harbour run about 1 knot, while those on San Francisco Bay not only are as strong as 4 knots in either direction but, as Winning said, "In the section we sail it's going in different directions at the same time."
Barnabas, with son Trent and Robert Greuter on Omega Smeg, noted that puffs also were a factor. "There's some big gains and losses out there [depending on whether] you tack in breeze or no breeze," he said.
The 18s go so fast - often faster than the wind - that all variable factors are magnified into dramatic switches in position. Hamlin followed Monday's pair of seconds with a sixth and a fourth Tuesday but insisted it wasn't because of losing veteran forward crew Rod Howell with a knee injury in Monday's second race. Hamlin scrambled to replace him with Trevor Bozina, a 20-year-old member of the St. Francis junior program who had sailed but never raced on an 18. Mike Martin remained in the middle on West Marine.
"Trevor wasn't holding us back," Hamlin said. "He did a great job. The only problem is that we're lighter now. He's 40 pounds less than Rod. That's okay in light wind but not if it blows." There are no weight limits, maximum or minimum, on the 18s.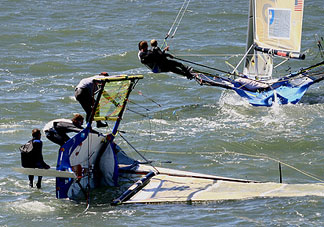 Dalton Bergan's Vodka Cruiser team (crew Jeff Nelson and Kevin Richards) is in full recovery mode as Howie Hamlin sails past.
For more information see www.stfyc.com and www.18footers.com.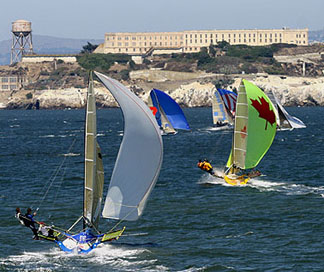 Alcatraz was not a mark of the course but a familiar sight along the way.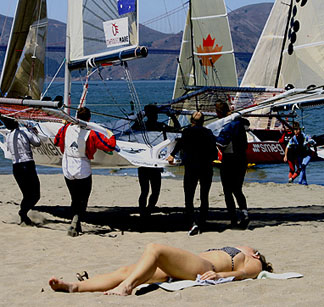 Sailors were careful not to disturb sunbathers as they hauled their 18 skiffs down to the water.
Photos Rich Roberts