Olympic Sailing Wrapup: My Big Fat Greek Blowout
August 30 - Athens, Greece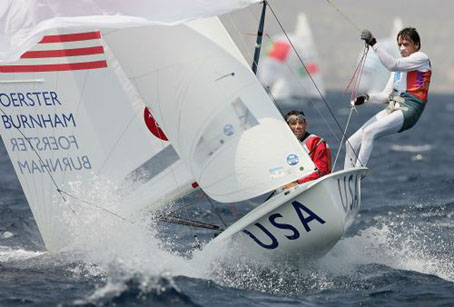 Paul Foerster (skipper) and Kevin Burnham
Team USA finished with only two medals in the sailing portion of the 28th Olympiad which wrapped up yesterday: a gold in Men's 470 and silver in Tornados. This frustrating performance was slightly better than the two bronzes in Savannah in '96, but quite a turnaround from the glory days of Long Beach in '84 (7 medals in 7 classes) or Barcelona in '92 (9 medals, 10 classes). The disappointing showing was due to two things: the increasing proficiency of sailors from other countries, and the fluky, unpredictable breezes of Greece's Saronic Gulf, where large windshifts shuffled the deck in many fleets many times.
Paul Foerster and Kevin Burnham's gold medal winning record - 1,8,2,15,9,4,3,7,18,4,(22) - gives some indication of the goofy conditions these sailors had to deal with. Foerster, who makes his home in Dallas, sailed his first Olympics in Flying Dutchmans in Pusan, Korea, in '88. He took silver in the same class in Barcelona in '92 (which was also the swan song for the FD). Paul sat out the '96 games, then got heavy into 470s, adding another silver medal to his cache in Sydney in 2000. Shortly after the 2000 games, Foerster got a call from Kevin Burnham, who won 470 silver with Morgan Reeser in 1992, and the two have been sailing together ever since. Obviously, the chemistry works.
And talking about chemistry, over in the Tornado fleet, John Lovell and Charlie Ogletree's long-running chemistry - they even share the same birthday! - earned them a silver medal. The two have improved steadily after finishing 7th in Sydney in 2000, and 8th in Savanannah in 1996. John hails from New Orleans and Charlie is from Houston via Newport Beach.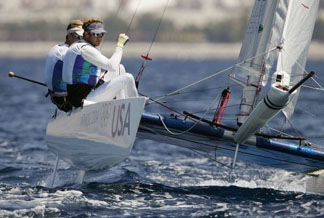 U.S. Silver Medalists John Lovell (skipper) and Charlie Ogletree
A noteworthy honorable mention, goes to the Bay Area's Paul Cayard, who, with crew Phil Trinter of Ohio, started the Star competition off with a win in the first race. Although Brazil's Torben Grael eventually amassed an unassailable lead and sat out the last race, the silver and bronze spots were up for grabs until the last race, and Cayard/Trinter were contenders. In the end, they ended up fifth. Grael, by the way, now has five Olympic medals, four of them in the Star Class and one for Solings in 1984.
The sailing portion of the games was held at the Agios Kosmas Sailing Center, about 20 miles from the Olympic Village. There were 11 events using 9 boat designs (two, the Mistral boards and 470s, had men's and women's divisions). All fleets raced 11 race/1 throwout series, except the 49ers, which did 16/1. When it was over, the 33 medals had been dispersed between a record 21 nations.
Historically, since sailing (then yachting) was first included in the Olympics in 1900 (and including the just-completed Athens Games), the U.S. has the highest medal tally with 56, including 17 golds. Great Britain is second (45, 19 gold) with Norway third (31, 17 gold).
Great Britain was the big winner in 2004 with five medals, including two golds (Finn and Yngling), followed by Spain with three (including gold in the 49er). In addition to the United States, six other countries won two medals: France, Brazil (two golds), Greece, Austria, Ukraine and Denmark.
Here are the breakdowns for the various classes:
Mistral Men (34 boards) - 1) Israel, 2)Greece, 3)Great Britain (USA, 28th)
Mistral Women (26 boards) - 1) France, 2) China, 3) Italy (USA, 16th)
Finn (25 boats) - 1) Great Britain,2) Spain, 3) Poland (USA, 11th)
Europe (25 boats) - 1) Norway, 2) Czech Republic, 3) Denmark (USA, 14th)
Laser (42 boats) - 1) Brazil, 2) Austria, 3) Slovenia (USA, 8th)
470 Men (27 boats) - 1) USA (Paul Foerster, Kevin Burnham), 2) Great Britain, 3) Japan
470 Women (20 boats) - 1) Great Britain, 2) Spain, 3) Sweden (USA, 5th)
49er (19 boats) - 1) Spain, 2) Ukraine, 3) Great Britain (USA, 5th)
Tornado (17 boats) - 1) Austria, 2) USA (Charlie Ogletree, John Lovell), 3) Argentina
Star (17 boats) - 1) Brazil, 2) France, 3) Canada, (USA, 4th)
Yngling (16 boats) - 1) Great Britain, 2) Ukraine, 3) Denmark (USA, 10th)