Photos of the Day
August 18 - SoCal
Today's Photos of the Day come from a little adventure we and some friends enjoyed last weekend, sailing from Redondo Beach to Avalon to Two Harbors to Newport. We had a wonderful time, and think the others did, too. If you're a Northern California sailor, you owe it to yourself to partake of the lovely sailing attractions of Southern California. August, September, and October are the best months. It's good timing, because at the end of such a vacation, it's usually easy to make it back up the coast to San Francisco.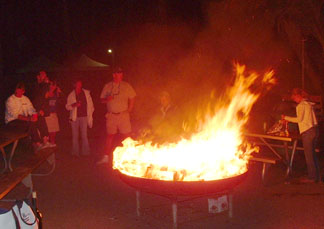 Burn baby, burn! We love Two Harbors, the only very slightly developed area toward the west end of Catalina. One of its very many charms is that you can build a bonfire about as damn big as you want, and enjoy it with all kinds of new friends.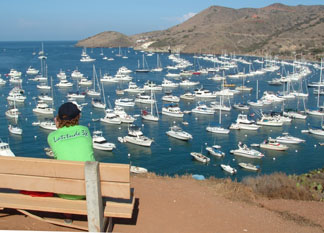 Laurie, one of the Profligate crew, surveys the moored and anchored out boats at Isthmus Cove. It's packed on August weekends.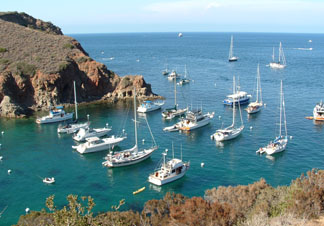 Lovely Fourth of July Cove, one over from Isthmus Cove.

On the way back to Newport, we not only saw another whale up close, we got to watch some World War II fighter planes 'attack' a Victory ship in the Catalina Channel.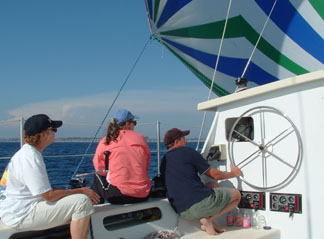 When sailing from Two Harbors to Newport, we've generally had good wind in the beginning and no wind once we got within a couple of miles of Newport. This time it was reversed, as we had no wind for the first 2/3rds of the way across, and a great tight reach east along the beach right up to The Wedge. In this photo David of Vegas is driving, with Nicky and Laurie looking on.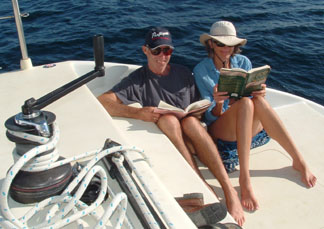 While Profligate was reaching along at up to 8 knots in the lightish winds, David and Elizabeth enjoyed reading on the starboard transom steps while taking in the warm Southern California sun. When we had similar sailing conditions the week before in the Santa Barbara Channel, British naval architect Richard Wood, who was along with us, told us, "We get one day a year of sailing like this in England - if we're lucky!"
Photos Latitude/Richard