Photos of the Day
August 16 - Italy
Today's Photo of the Day comes from our man in the Med, former Sausalito resident Noel G., who has been living and working in France and other European countries for the last five years or so.
"The first photo is of my Outremer 43 cat Laia at anchor in front of Riomaggiore, the southernmost of the five isolated villages of Cinque Terre ('Five Lands') near La Spezia, Italy. Until 1976, it could only be reached by trail or, on a calm day, by sea.
"Today's final shot - editors say photo features always need to include a person - is of my crew on the bow of Laia at Porto Venere.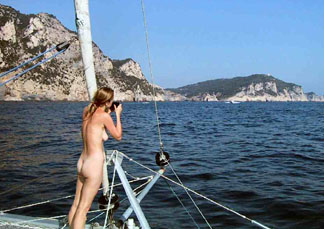 Photos Noel G.
"When you come to the entrance to this 'hole in the wall' spot, you must really trust your GPS in order to find it. The opening is about 300 feet across, but the entrance channel isn't as wide. Italian powerboaters, of course, zoom in at macho speeds. My next stop is Elba and some of the other Tuscan Islands."
If anyone gets a chance to cruise the west coast of Italy, they should not pass it up. It is very lovely, and very different than what we Americans are accustomed to.