Photo of the Day - Waiting for Charley
August 13 - Caribbean / Gulf of Mexico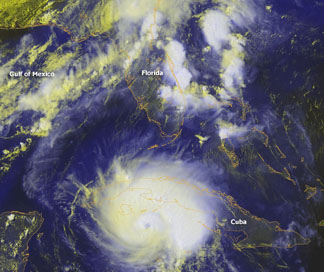 Hurricane Charley south of Cuba at 3:45 PM EDT yesterday
Photo Courtesy http://www.osei.noaa.gov
"Thought you might like a worm's eye-view of Hurricane Charley as he churns toward Key West. Charley appeared almost by magic in the eastern Caribbean earlier this week, with no fanfare and no threats to land. As you know, most storms grow up in the Atlantic and burn up a few Eastern Caribbean islands on their way to the States or Mexico, but Charley 'just appeared' and started building and threatening Jamaica.

"Now, Thursday evening, Charley is south of Cuba and is apparently building ferociously. Just yesterday, many Key West residents were very nonchalant as Charley looked to pose little more of a threat than any other vicious summer squall. Unfortunately, the hurricane's forward speed slowed and the storm started to build strength. It is now considered a possible category three by the time it reaches the Keys tomorrow morning (8 am EST Friday). Sustained winds in excess of 95 knots (110 mph) make this storm a possible threat on the level of Georges, which swept the Keys in September, 1998 (as we were preparing to take off on the Baja Ha-Ha!).

"I am working as a 911 dispatcher at the Key West Police Department and Layne is on duty in her job as juvenile probation officer (with our Labrador Emma), so our family is safe in 200 mile-per-hour buildings. As for the boat, that's another story. We stripped Miki G in her slip at Sunset Marina, which is a modern floating dock marina on the north side of Stock Island - the island next to Key West - and we are hoping for the best. Our hull insurance premium is paid!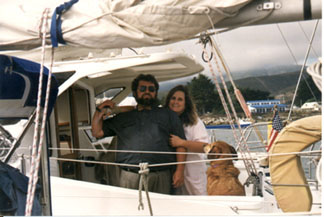 Michael & Layne during the 1998 Baja Ha-Ha Rally
Photo Courtesy Miki G
"This isn't the first storm I have been through, but if Charley gets up to category three as predicted it will be the strongest I've ever seen, (I lived in St. Petersburg from 1989 to 1992), and as the sun goes down and the sky becomes covered with whispy red clouds, I'm starting to get a little knot in my stomach. Here at the call center we are getting lots of calls (which make this email a bit choppy as I have to respond to everything from reports of wires down, possible bomb threats, fights, drunks, and car wrecks - and the winds haven't even started yet!!) Most are from people who are starting to get apprehensive. Nobody expected a category three!

"Ray Jason has a slip at Sunset a couple of docks from us, and another Northern California sailor pointed out he is a bit of a jinx . . . where he goes, storms seem to follow. I will go over to see him on Aventura after this mess is over to see how he fared. The funny thing is Layne and I are scheduled to fly to Santa Cruz on Thursday for a two-week vacation - and we can't wait for the cold, gray skies of California!"

Michael Beatie
Key West Police Department

Readers - Charley's center passed west of the Florida Keys this (Friday) morning, with the outer bands bringing rain and wind of up to 50 mph to the lower Keys, but only minor damage was immediately reported. The hurricane is expected to strengthen and hit Tampa Bay later today. Storm surge in the Tampa area could reach up to 16 feet if Charley hits at the expected 120 mph.